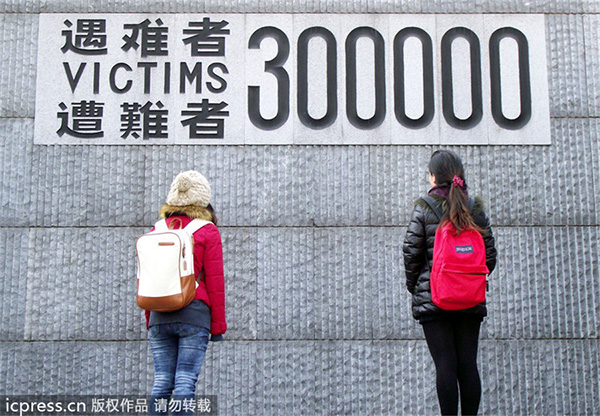 Visitors pay tribute to war victims at The Memorial Hall of the Victims in Nanjing Massacre by Japanese Invaders in Nanjing, East China's Jiangsu province. In the Nanjing Massacre, more than 300,000 people were slaughtered and 80,000 women were raped by Japanese invasion troops. The horror began on the morning of December 13, 1937, when the Japanese Imperial Army captured Nanjing. [Photo/IC]
PARIS - A total of 47 new nominations, including Documents of the Nanjing Massacre from China, are inscribed on the Memory of the World Register by the International Advisory Committee of UNESCO's Memory of the World Programme, announced Friday UNESCO in a press release.
The decision was made during a three day meeting of UNESCO from Oct. 4 to 6 in Abu Dhabi, the United Arab Emirates, following a two-year process as part of the 2014-2015 nomination cycle during which 88 submissions from 61 countries were examined.
According to UNESCO, Documents of the Nanjing Massacre consists of three parts: the first part concerns the period of the massacre (1937-1938), the second part is related to the post-war investigation and trials of war criminals documented by the Chinese National Government's Military Tribunal (1945-1947), and the third part deals with files documented by the judiciary authorities of the People's Republic of China (1952-1956).
On Dec. 13, 1937 when Japanese invaders first occupied Nanjing, China, they began six weeks of destruction, pillage and slaughter in the city, which were planned, organized and purposefully executed by the Japanese Army. Over 300,000 Chinese, including defenseless civilians and unarmed soldiers, were murdered, together with countless cases of rape, looting and arson.
The Memory of the World Register is the list of documentary heritage under UNESCO's Memory of the World Programme which was set up in 1992 to "preserve documentary heritage and memory for the benefit of present and future generations in the spirit of international cooperation and mutual understanding, building peace in the minds of women and men".
With Documents of the Nanjing Massacre, China now has 10 inscriptions on the International Memory of the World Register.