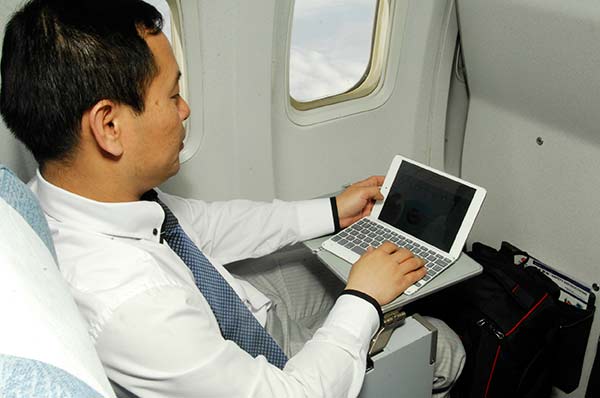 Air China staff adjust the equipment on board. [Photo/China Daily]

Chinese airlines are rolling out services to allow passengers to access the Internet, but concerns remain over pricing and network speeds
Are you bored with long flight without access to the Internet? This may soon be history as Chinese airlines take steps to boost their inflight Wi-Fi networks.
Now passengers on some Chinese airlines' flights can send e-mail, book hotels, watch online videos, and even make purchases online and get the packages as soon as they land at their destination.
Chinese airlines, including Air China, China Southern Airlines and China Eastern Airlines, have been working on their in-flight Wi-Fi networks over the past five years and have begun rolling out the services.
Air China currently leads the industry. Its in-flight Wi-Fi lets passengers on some flights use their iPads or laptops to browse online shopping websites like JD.com, video websites like iqiyi.com, read news provided by Xinhua News Agency and tweet on Chinese Twitter-like website Sina weibo.
"After every flight with Wi-Fi, Sina at Air China has to maintain its background system to keep it running well," says Geng Jinsong, a director at the In-Flight Network Project Office of Air China, adding that passengers like tweeting the most.
"Tons of posts pour out when the planes take off, sometimes causing a system crash," says Geng, indicating how popular in-flight tweeting is among Air China passengers.
Besides the listed websites, in-flight live broadcasting is also growing.
On Sept 3, passengers on CA1369, a flight from Beijing to Sanya, watched a live telecast of the military parade to mark the 70th anniversary of the end of World War II.
"Passengers were surprised and excited when they were told they wouldn't miss the parade," says Geng, adding that he's proud of the latest achievement of live telecast via radio and television satellite signals.
Backstage supporter server
Since 2010, Air China has been working on in-flight Wi-Fi. Now, six passenger planes can provide passengers with Internet access through Air China's backstage supporter server.
Geng says the in-flight network can reach a speed of 30Mbps, which is close to the speed of a regular 4G mobile network.
For an Airbus aircraft like A330-300, six signal projectors are set around the cabin, each of which guarantees 60 devices connectivity to the Internet. This means more than 300 people onboard can be connected to the Internet
The in-flight Wi-Fi of Air China though isn't the same as regular 4G signals of China Mobile, China Unicom, or China Telecom, the three biggest mobile network operators in China.
Passengers are redirected to websites from the homepage of the Air China in-flight network, which is different from the ordinary way of inputting the website addresses. Websites on Air China's homepage, provide both news content and services like online shopping.
How is in-flight Internet realized?
As of now, Air China has refitted 22 planes, equipping them with an in-flight Wi-Fi network. While 16 aircraft are connected to the local area network (LAN) in the plane, the other six are able to connect to the Internet by means of L-Band, Air-To-Ground (ATG), and KU-Band signal channels, respectively.
LAN in a plane is the basis of connection to the Internet.
A plane needs to be equipped with LAN before it's connected to the Internet.
Giving details of the three signal channels, Yang Huiting, a director at Electronic Network Department at Air Media Group, said the L-Band and the KU-Band were both satellite-based communication channels, while ATG was a ground-based communication channel.
L-Band is the 1 to 2 GHz range of the radio spectrum, which is traditionally used for aircraft cockpit communication with the ground, while the KU-Band ranges from 12 to 18 GHz.
ATG sends signals to planes from on-ground signal towers instead of from satellites directly as L–Band and KU-Band does.
"So, to achieve ATG communication, airlines have to build towers every 300 kilometers on the ground for all the flight paths which is impossible," says Yang.
What Chinese airlines mainly work on is to connect the in-flight network to the Internet via KU-Band signals, which is a method accepted worldwide.
Yang says that while airlines around the world have put great efforts in the ATG channel space in the past few years, Chinese airlines have focused more on the KU-Band .
"Foreign airlines started work much earlier. However, domestic airlines started from a higher level though the process was delayed by nearly 10 years," said Yang.
Sharing Yang's view on the difficulties with ATG communication, Wang Zibo, an engineer of satellite communication technology in Beijing Marine Communication & Navigation Co, says that onboard Wi-Fi supported by ATG is limited to a great extent.
"Just imagine building signal towers all over the world? Even though it is possible, when will it end?"
Wang cannot see any point in developing ATG communication for onboard Wi-Fi, as the KU-band is already available and permitted by the authorities.
"The three types of onboard Wi-Fi all have deficiencies," says Wang, adding that the narrow bandwidth of L-Band led to slow speed Internet access, which did not satisfy passengers' needs.
As for KU-Band, Wang says that he is afraid that high fees may scare passengers away.
"During the trial period, airlines provide Wi-Fi for free, but this cannot be the case forever," says Wang.