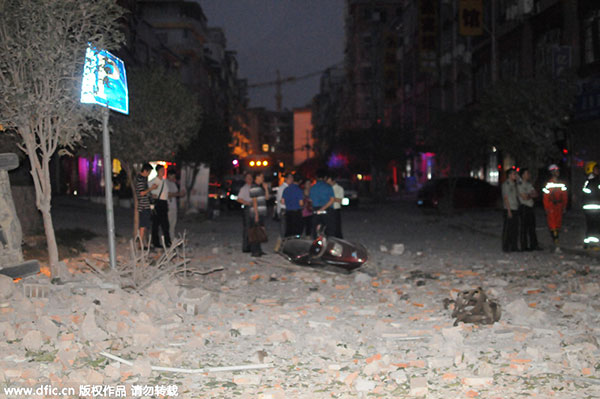 Onlookers survey the damage at one of the sites where suspected package bombs exploded on Wednesday in the Guangxi Zhuang autonomous region.[Photo/IC]
The man suspected of causing multiple explosions in the Guangxi Zhuang autonomous region hired people to help deliver parcel bombs, the police said Thursday.
The explosions, which happened on Wednesday afternoon, killed at least seven people and injured 51 others in Dapu township, the seat of Liucheng county, and surrounding area. Two people are still missing.
According to the Liuzhou police, the suspect, 33-year-old Liucheng native Wei Yinyong, hired street vendors to deliver express mail packages containing explosives. The devices exploded when the parcels were opened.
Some of the bombs were placed in location in advance and then detonated remotely, such as the device that wrecked the dormitory of the Animal Husbandry Bureau in Liucheng, killing four people and injuring many others.
On Thursday, Cai Tianlai, a senior officer at the Liucheng County Public Security Bureau, said officers discovered more than 60 suspicious packages after tipoffs from the public.
The packages were placed in an isolation area, where experts disarmed them and began further investigations, he said.
The authorities in Liuzhou have tightened supervision of the delivery of packages, and the local branch of the State-owned China Post has halted all mail deliveries until Saturday.
The Liuzhou police used the micro blog Sina Weibo to warn the public not to accept materials delivered by strangers or accept parcels received via unofficial channels. They said further investigations were underway.
A private residence near the Highway Administration Bureau was also damaged in an explosion on Thursday morning, according to Xinhua reporters at the scene, although it was not immediately known if there were any casualties.
According to a police circular seeking Wei's arrest, the suspect lives in Dapu township, and is a former employee of a quarry in Liucheng county.
On Wednesday afternoon, 17 blasts occurred in at least 13 locations in Liucheng and its suburbs, including a shopping mall, a prison, a government building, a supermarket and a hospital, according to the local Public Security Bureau.
The bombings occurred between 3:15 pm and 5:30 pm on the eve of China's National Day Holiday, the bureau said.
The injured, some of whom are in critical conditions, are being treated at the Liucheng county People's Hospital.
The Ministry of Public Security said it was treating the explosions as criminal acts, and emphasized that it had ruled out terrorism as a motive. The ministry has also sent a special team and criminal investigation experts to Guangxi to help the investigation.
"It was a premeditated and planned criminal act, aimed at creating public panic during the holiday," said Dai Peng, director of the Criminal Investigation College at the People's Public Security University of China.
Contact the writers at zhangyan1@chinadaily.com.cn and huoyan@chinadaily.com.cn
Xinhua contributed to this story.