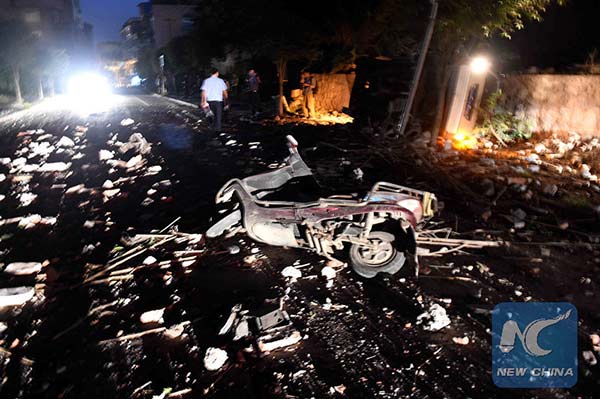 Photo taken on Sept 30, 2015 shows a blast site in Liucheng County, south China's Guangxi Zhuang autonomous region. [Photo/Xinhua]
NANNING - Police in the southern Chinese city of Liuzhou on Friday identified the suspect of
serial blasts on Sept 30
and confirmed he had been killed in one of the blasts.
Police identified the suspect as Wei Yinyong, a local man at the age of 33, through DNA tests on evidence collected from crime scenes.
Wei assembled homemade timing bombs and disguised them as packages, the police statement said.
He personally delivered and hired other people to send the bombs to different locations.
Police believed Wei committed the crime to revenge some villagers and institutions that he had disputes with in quarrying business.
The multiple blasts occurred at the seat of Liucheng county and the surrounding areas in Liuzhou of south China's Guangxi Zhuang autonomous region, including a shopping mall and the dorm of a local animal husbandry bureau, on the afternoon of Sept 30. It killed ten people and injured 51.