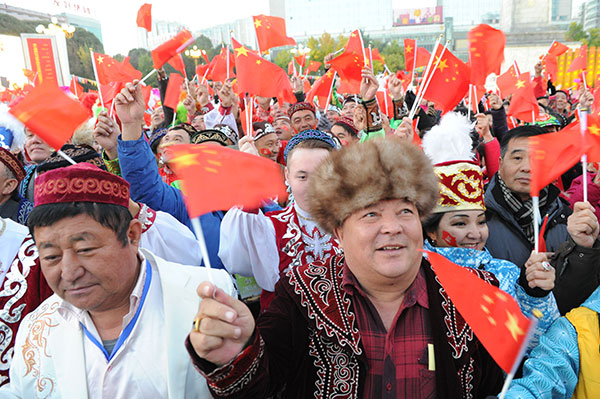 Residents gather in Urumqi on Thursday to celebrate National Day, the 66th anniversary of the founding of the People's Republic of China, and the 60th anniversary of the Xinjiang Uygur autonomous region.[Zhang Wande/China Daily]
Authorities say economic development, reform, employment and religious rights must make contributions to final goal
Yu Zhengsheng, China's top political advisor, said on Thursday that long-term stability and security are the top priorities in the Xinjiang Uygur autonomous region. He stressed that counterterrorism will be the focus of the local government's work.
Yu, chairman of the National Committee of the Chinese People's Political Consultative Conference, made the remarks at a grand rally in Urumqi, the regional capital, marking the 60th anniversary of the autonomous region's founding.
All policies and programs related to economic development, people's livelihoods, reform, ethnic minorities and religion should contribute to the final goal, Yu said.
"We must be fully aware of the severe situation we are facing to maintain long-term stability in Xinjiang," Yu said. "Counterterrorism is the focus of our current work."
The government will also address other social problems, he said, adding that it will balance security efforts with economic development.
Yu noted Xinjiang's prominent developments in the past 60 years in fields such as agriculture, farming, modern industry, logistics, tourism, infrastructure, transportation, and environmental protection. He noted that the region's GDP last year was 115.6 times higher than in 1955.
According to Yu, a series of favorable policies introduced by the Communist Party of China have led to an increase in the number of officials and professionals from ethnic minorities in the region.
Figures released last month by the State Council, China's cabinet, showed that the number of ethnic minority officials in Xinjiang was 46,000 in 1955, but had risen to 417,000 by last year, accounting for 51.4 percent of regional officials.
Greater efforts will be made to raise morale and unite the people of Xinjiang so they will stand firmly shoulder-to-shoulder with the Party and government to build an "iron wall" that safeguards stability and security, he said.
Speaking in Beijing on Wednesday, President Xi Jinping stressed the importance of ethnic unity when he met with 13 representatives from the country's five autonomous regions-Inner Mongolia, Guangxi, Tibet, Ningxia and Xinjiang-who had been invited to celebrate China's National Day.
"I have stressed many times that not a single ethnic group should be left behind in the process of comprehensively building a prosperous society," Xi said.
He urged people from all ethnic groups to love one another like brothers and sisters, to interact more and make efforts to safeguard unity.
The Xinjiang Uygur autonomous region, founded on Oct 1 1955, is home to the Uygur ethnic group, which accounts for 48 percent of the regional population. Xinjiang is also home to 12 other ethnic groups, including Han, Kazak, Hui and Mongolian.
At a news briefing in Beijing on Sept 23, Shohrat Zakir, the chairman of the region, said the goal of the "three forces" is to use violence and exploit the differences between ethnic groups to create misunderstandings and instigate unrest.
The CPPCC's Yu said people must pay attention to employment in Xinjiang because it is closely related to social stability. The region needs to focus on creating labor-intensive industries, such as textiles, and ensure that people have the right skills to gain employment.
Since Sept 25, Yu has been leading a delegation that has participated in a series of celebratory activities around the region, including visits to the Xinjiang Islamic Institute in Urumqi and the Id Kah mosque in Kashgar city. He called on religious leaders to play a greater role in maintaining social stability in Xinjiang.
Xinhua contributed to this story.