Ramadan is an important religious festival and Chinese Muslims are no different to any other followers of Islam around the globe.
Those in Xinjiang Uygur autonomous region, Northwest China, such as a master worker getting up early in the morning; an imam becoming better off through his diligent work and a dedicated football coach, are hopeful about the future.
Here we meet some Muslims and find out what they do on an ordinary day during the month of Ramadan when they are required to fast between sunrise and sunset.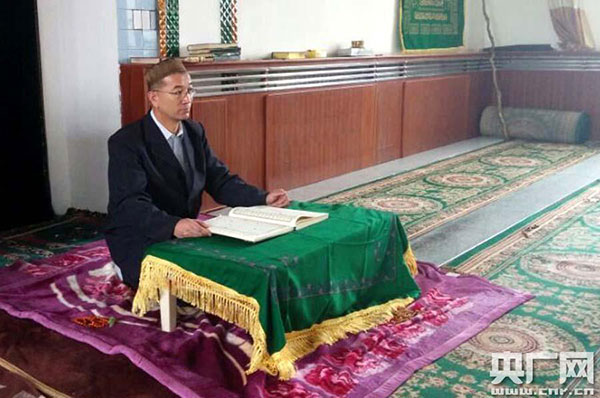 Yang Jie attends a religious service. [Photo/cnr.cn] 
Yang Jie, an Imam in Hutubi county: busy helping his village become better off
In Hutubi county, Hui autonomous prefecture of Changji, unlike a traditional imam Yang Jie is a "fashionable" one. Although his 1.3 hectares of land have been put onto land conversion market, he is still busy helping religious people in his village get rich.
Yang is not only the representative of traditional religion, but also a transmitter of modern culture. The 49-year-old has been an imam for 23 years. Among religious people in Changji, Yang is esteemed as one of the most fashionable imams: he was first to drive a motorbike, first to put TV in his office, first to use a mobile phone, first to drive a car and first to open a weibo account.
Except for attending religious services in the mosque, Yang spends most of his time answering phone calls, checking his WeChat, visiting rural tourist enterprises and helping low-income families.
Yang said it is necessary to introduce local rural tourist enterprises to neighboring scenic spots. Five tourist enterprises are open and six more under construction in Sangonghu village, he said.
Yang organizes many WeChat groups to exchange economic information with villagers.
Because it is Ramadan, more people are visiting the mosque and Yang says they would share iftar (the evening meal after sunset) together after the isha (night prayer).