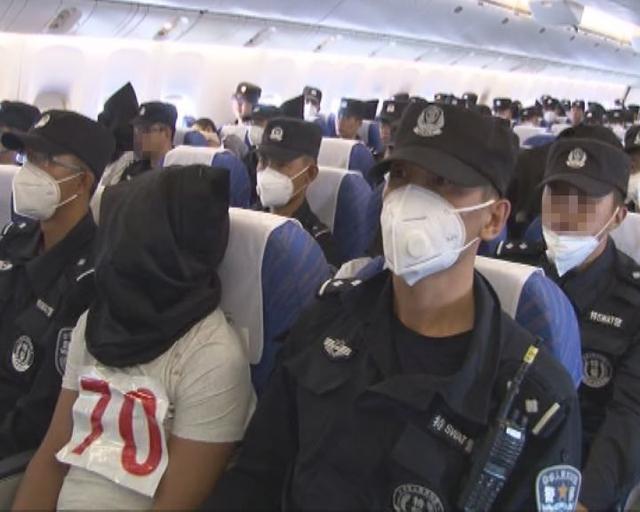 Several stowaways are repatriated from Thailand back to China's Xinjiang Uygur Autonomous region on July 9. [Photo/CCTV News]
URUMQI - Several stowaways repatriated from Thailand back to China's Xinjiang Uygur Autonomous region on July 9 are claiming they were deceived and manipulated into becoming tools for human smugglers by overseas terrorist groups.
Abdulniyaz Yasin, 43, was among 109 people repatriated from Thailand last month. Prior to leaving Xinjiang, he had 30 hectares of crops with an annual income of more than 100,000 yuan ($16,340). He returned home with nothing.
During his nerve-wracking journey, he paid great sums to avoid authorities, at one point starving in the woods for three days.
"I paid the organizers 30,000 yuan when I crossed the border, another 9,000 yuan in Vietnam and $3,600 in Cambodia," said Yasin, who sold his land and planned to join the jihad, or holy war, after being recruited by a fellow villager.
"Now I have no money, nor land," he said.
Abdulniyaz Yasin is illiterate. He cannot fill out an application or understand the Islamic doctrines.
"I took his words for granted and dreamed of joining the 'jihad' in order to live a heavenly life, but instead lost my home," he said.
"They were all cheaters, just in it for money," said Yasin.
Another man, Muhamad Imin, 29, said he paid brokers 75,000 yuan, which his father had given him to start a business in the regional capital Urumqi. He too ended up stranded in a forest in Thailand.
Some of the deportees said they had been persuaded by fellow villagers to travel to Syria with the promise of a place in heaven if they took part in jihad.
"A man called Abbabakire told me I would go to the Jahannam (Islamic concept of Hell) if I did not join the 'jihad,'" said Abbas Ehet.
"He told me if I sacrifice and take part in the jihad I would go to heaven," said Ehet. "I believed in him."
"They told us if we were arrested in Thailand, we should say we were from Turkey," he said.