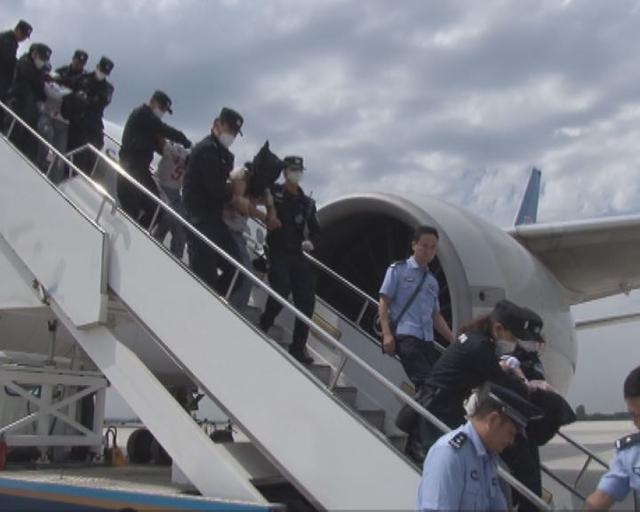 Several stowaways are repatriated from Thailand back to China's Xinjiang Uygur Autonomous region on July 9. [Photo/CCTV News]
Muhamad Imin, together with several accomplices, intentionally turned themselves in to the police in Thailand.
"One of us received a text message saying if you told police you are from Turkey, you would be sent to Turkey," said Imin. "So we sought out the police."
The Eastern Turkistan Islamic Movement (ETIM), a U.N.-listed terrorist group, rescued the Chinese smugglers through "diplomatic means" after they were caught by Thai police, said Abudukadir Yapuquan, a key member of ETIM, in a recent interview on a Turkish TV channel.
"Those repatriated from Thailand had inextricable links with ETIM and international anti-China forces, who intended to transport them to Syria via Turkey to join ISIS and carry out 'jihad,'" said Gao Zhaoyi, a police officer with the regional public security department.
Several of those being returned to China attacked police as they were escorted to their flight home, fearful they would face execution on return.
Quddus Tohtiyusup was among them. He attacked police officers at the airport in Thailand after hearing the rumor. He suffered a head injury after scuffling with police.
He remained terrified after he returned to Urumqi, refusing to get out of the vehicle. Soon after talking with police he relaxed.
"The police treated us well and took me to see the doctor," he said, adding that his wounds are healing.
Most of the repatriates are being detained in Urumqi, where they have received quality medical care and meals, according to the regional public security department.
Two of those repatriated, who told police detailed accounts about how they fled abroad and had only minor criminal offences Thailand, were allowed to return home.
"I thought I would never have a chance to go back home and see my parents," said Azgul, who was allowed to return to her hometown.
Those who were deceived by the human smugglers and fled abroad will be handed over to authorities in their hometown for education, said Chen Zhuang, deputy head of the regional public security department.
The smugglers will be penalized in accordance with the law, said Chen.