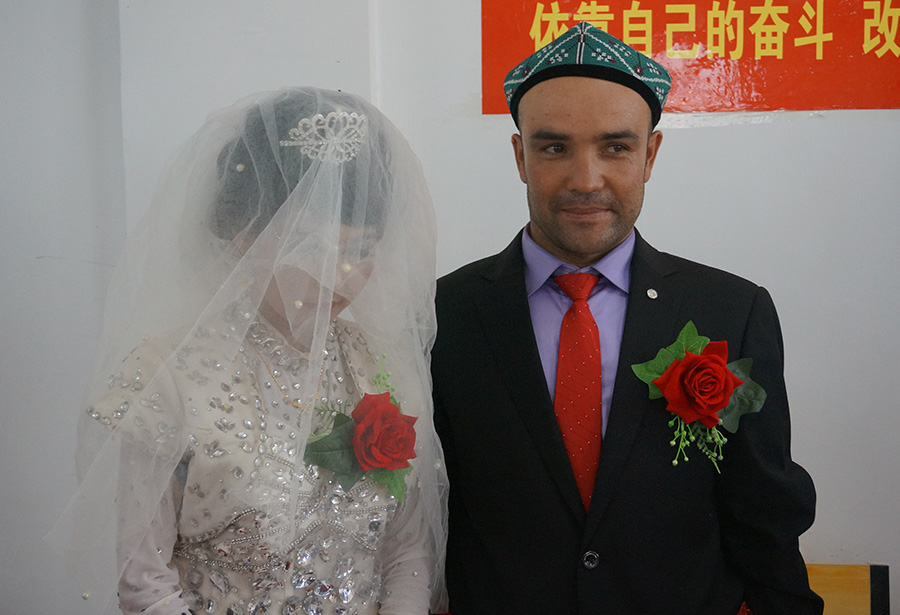 A couple pose for a photo during the ceremony on Aug 20, 2015. The groom, Mamutjon Jumar, is 28 years old and runs a local motorcycle repair shop. The bride,Amina Nikes, is a 20-year-old farmer. Traditionally, early in the morning the groom should drive a carriage to pick up the bride at home, where she waits for him with a veil covering her face. Today, the carriage is replaced by a car. [Photo by Liu Jing/chinadaily.com.cn]
The Qixi Festival is often known as Chinese Valentine's Day. According to traditional Chinese folklore, it is the day when the Weaver Girl (Zhinu) and Cowherd (Niulang) can finally reunite for one night after a year's separation.
This year, the spirit of holiday romance was felt by the Uygur ethnic group in Jiashi county in Kashgar, Xinjiang Uygur autonomous region as a couple in the county got married during Thursday's festival.