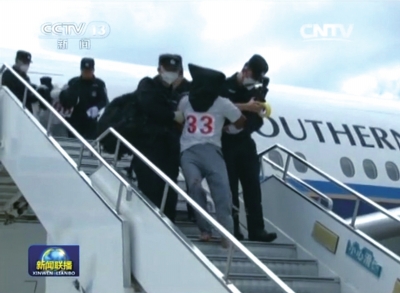 A screen grab from state broadcaster CCTV shows that illegal immigrants were repatriated from Thailand to China on Thursday.
BEIJING - Thailand's repatriation of over 100 illegal immigrants back to China is nothing but a legitimate and necessary law-enforcement cooperation mission in agreement between the two countries, and should not be interpreted as an ethnic or religious issue.
Some foreign governments have made unwarranted accusations on the matter, which can only be deemed as another unavailing episode of their long-time finger-pointing tactics to interfere in China's internal affairs and disrupt China's security and stability.
When getting to the bottom of such empty rhetoric, one will find that this issue is simply about a routine law-enforcement cooperation mission in agreement between Thailand and China.
To begin with, those repatriated Chinese citizens are not "refugees" of any political or religious oppression. They are illegal immigrants holding counterfeit passports in violation of laws of both China and Thailand.
On Thursday, Thailand repatriated a total of 109 illegal immigrants to China, who had been on their way to Turkey, Syria or Iraq to join jihad, the Chinese Ministry of Public Security confirmed Saturday.
Of the 109 individuals returned to China this week, 13 had fled China after being implicated in terrorist activities, and another two had escaped detention, said a ministry statement.
To repatriate illegal immigrants is a legitimate and normal practice for any government, and simply a matter of law enforcement because the reason to repatriate them is not their ethnic or religious background but their violation of laws of China and Thailand.
Moreover, the absurd accusation against Thailand's repatriation of several suspects of terrorism is reeking of double standards, which is detrimental to the global fight against terrorism.
It is noteworthy that many of those repatriated by Thailand are extremists who want to become "jihad fighters" in the war-torn areas of the Middle East, or even, suspects of terrorist crimes in China.
Having always been firmly against any form of terrorism, the Chinese government is acting within its power and jurisdiction to bring those suspects to justice, which will also serve as an effective deterrence to other terrorists.
China's Ministry of Public Security has already announced that it will carefully screen those people who have been repatriated to China. For those who have committed terrorist crimes, they will be brought to justice; and for those Chinese who have been coerced or cajoled to cross the national border, they will be educated and resettled.
However, ignoring the obvious facts, some foreign governments try to politicize the issue by throwing unfounded accusations and criticism over the legitimate and necessary law-enforcement cooperation between Thailand and China.
Such acts are not only in connivance with illegal immigration and human smuggling, but are also meant to send wrong signals to terrorists by whitewashing them as innocent refugees.
The international community should be unequivocal on the stand against the threats of terrorism and follow the same standards when dealing with terrorist groups from all countries.