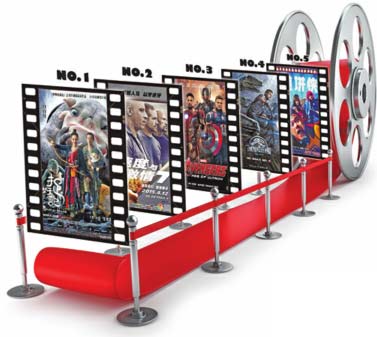 WANG XIAOYING/CHINA DAILY
Cinema typically prospers during slowdowns, and insiders think new films will turn box offices to gold, Xu Fan reports.
China's box-office chart has seen new records set frequently in recent months. The latest big high-this year's first three-quarters raking in more money than all of 2014-has sparked predictions that 2015 will roar all the way to 40 billion yuan ($6.25 billion).
Powered by a strong summer season, the world's second-largest movie market grossed about 32 billion yuan from more than 320 movies in the first nine months of 2015, according to box office tracker Cbooo.cn.
Last year, the country's rapidly growing market brought in total box-office revenue of 29.6 billion yuan, a mark reached by Sept 2 this year, nearly four months earlier than last year.
Based on the frenetic growth rate, many insiders-including the analysts and experts contacted by China Daily-estimate that 2015 will pass the 40 billion yuan milestone, and some even predict 45 billion.
However, a longtime concern for Chinese films lingers. A big section of the booming market features foreign rivals, although domestic films are chipping away at their dominance. The country's top movie regulator said around 60 percent, or 18 billion yuan, of the nine-month box office receipts were taken by domestic titles.
That's up significantly from last year's 54 percent.
In a positive sign to Chinese moviemakers, the homegrown live-action animated film Monster Hunt beat out the strong Hollywood rival Fast and Furious 7, a high-octane action blockbuster, to become the highest-grossing title in the history of Chinese cinema.
Thanks to its extended release of up to 63 days-a normal span for big movies is around five weeks or less-and creative characters, Monster has brought in 2.44 billion yuan, a slim lead over Furious 7's 2.43 billion yuan.
Despite the top glory, three of the other Top 5 big-grossing films were titles from the United States.
Marvel's superhero adventure Avengers: Age of Ultron takes the third slot with a total box office of 1.46 billion yuan, followed by Jurassic World at 1.42 billion yuan and the Chinese-language pop comedy Jian Bing Man at 1.16 billion yuan.
This year's Spring Festival season champion, The Man from Macao II, wound up in the sixth slot with 974 million yuan, while another Spring Festival favorite, Dragon Blade, dropped to 10th with 744 million yuan.
Unlike most of the blockbusters boasting megastar casts and big budgets, such as The Man from Macao II with Chow Yun-fat and Dragon Blade with Jackie Chan, the seventh-largest-grossing film, Monkey King: Hero Is Back, shocked the insiders as one of this year's most surprising dark horses.
With fewer screens and limited marketing, the domestic animated flick grossed 956 million yuan, replacing the Japanese hit Stand By Me Doraemon to surge to the top as the all-time highest grossing animated film in China.
The recently released espionage thriller Mission: Impossible-Rogue Nation takes the eighth seat with 820 million yuan, closely followed by The Hobbit: The Battle of the Five Armies with 766 million yuan.
More major movies are crowding cinemas during the golden National Day Holiday week, raising insiders' hopes for a cash bonanza in the coming weeks.
For most of the industry insiders, the "lipstick effect" has become a frequently talked about theory to explain China's booming market, which stands in contrast to the lethargic overall economic picture globally.
The concept, coined in the West, is based on the idea that women spend more money on affordable items as substitutes for luxuries during times of economic uncertainty.
"Historical cases from the world's major markets show that the movie industry enjoys support during the times of economic downturn. And it's similar for China," said Cheng Jiaqi, managing director of Fundamental Films, a Shanghai-based company that has a close connection with Hollywood and European studios.
When the country's economy experiences slower growth, its moviemakers prosper-a theory borne out by the average annual growth rate of more than 30 percent over the past five years.