In today's trending, couple carves magnificent jade 'banquet' out of stone, four alpacas get their own house, man falls down chimney, and the world's biggest fork.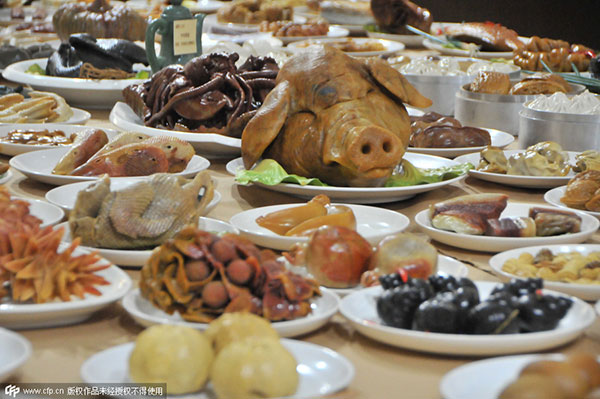 All the dishes are made with jade. [Photo/CFP]
20 million yuan stone banquet
A couple carved hundred of dishes out of stone to create a set of delicately carved chrismatite, a kind of jade. The sculptures have won an award in Hangzhou for their exquisite craft, reported cfp.cn on Sunday.
The couple carved chrismatite into vivid dishes of food like a stewed pig head, steamed bun, braised pork, tofu salad and chicken soup.
The dishes appear to be so real that visitors cannot believe it's not real pork even when holding the items up close. According to the couple, the sculptures are made out of jade valued at over 20 million yuan ($6.7 million) they've collected for years.
Their goal is to complete 200 dishes, and they are more than halfway there, with 120 dishes currently on display.
In our next story, four alpacas get a luxurious house all to themselves.