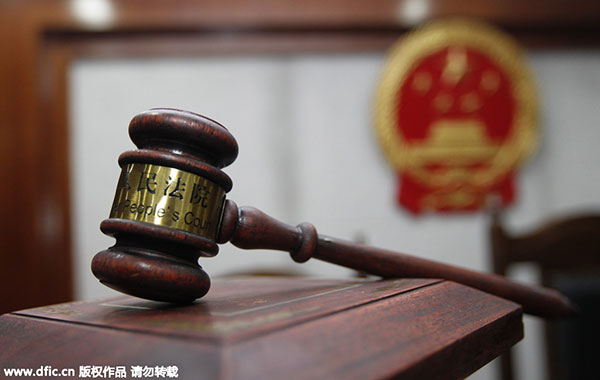 A gavel in a court. [Photo/IC]
Prosecutors who neglect their duties or conduct malpractice that results in miscarriage of justice or major case defects will face severe punishment, even beyond their time in office, amid a deepening judicial reform designed to ensure justice, the Supreme People's Procuratorate said on Monday.
The top prosecuting department has issued a judicial mandate to further clarify and standardize prosecutors' legal responsibilities and punishments "in a bid to ensure fairness" of the judicial system, SPP spokeswoman Xiao Wei told a news briefing on Monday.
According to the new rules, prosecutors at all levels will assume legal responsibility for the quality of the cases they have handled. The rules will ensure that "justice will be done to the public in every judicial case," the SPP document says.
Xiao said that "if prosecutors violate the regulations on purpose, abuse power or fail to assume supervision duties, resulting in wrongful court judgments or other serious consequences, they will assume legal responsibilities, including being disciplined or even facing criminal charges."
In recent years, some miscarriages of justice have occurred nationwide through prosecutors' abuse of power and malpractice, greatly hindering judicial credibility and social fairness, which has caught the attention of the public and media.
The rules stipulate that if prosecutors violate laws in order to indulge the suspects and cover their crimes, destroy or fabricate evidence, or threaten and torture suspects to obtain confessions, they will assume legal responsibilities, such as discipline or criminal charges, said Wang Guanghui, director of the SPP's judicial reform office.
Additionally, if they conduct malpractice by knowingly using illegal evidence offered by police, illegally detain and prosecute suspects, or cause them to act in collusion to change confessions, they will be subject to legal punishments, he said.
Moreover, when prosecutors neglect their supervision duties, resulting in unjust or false trials and major case defects, such as using illegal evidence or the wrong application of laws or legal procedures, they will also assume legal responsibilities, said Wang.
He said that if suspects are finally found not guilty and set free by the courts, and the media or public exposes prosecutor misconduct, the SPP will immediately initiate judicial procedures to investigate the prosecutors' conduct.
"In serious circumstances, they will be suspended from their duties, removed from their posts or even held criminally accountable."
Xinhua contributed to this story.
zhangyan1@chinadaily.com.cn