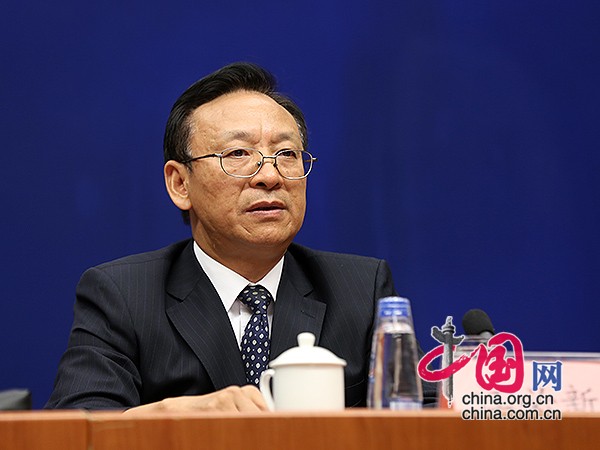 Jiang Bixin, vice-president of the Supreme People's Court is pictured at a press conference of the State Council Information Office in Beijing, Sept 21, 2015. [Photo/China.org.cn]

The vice-president of the Supreme People's Court has vowed to push forward reform to deepen judicial transparency.
Measures, including creating online platforms for open law enforcement with the aid of information technology, have greatly boosted transparency since 2013, Jiang Bixin told a press conference at the State Council Information Office in Beijing on Monday.
Interested parties can find information on trials by logging on to the website of the people's court, calling the litigation service hotline 12368 or via mobile APPs.
Online contents have expanded to cover filing, trials, implementation of decisions, hearing of witnesses and judgments, according to Jiang, who admitted that some problems used to exist in the country's judicial system,.
Jiang added that statistics could better illustrate the establishment of the judicial openness platform.
As of Monday, there have been 849,000 clicks on www.court.gov.cn, the official website of the court to disclose judgments and reconciliation statements. Trial process information relating to 8,111 cases of the SPC has been opened to the public, together with the publication of 153,300 items of information and sending 22,000 text messages.
Some 3,502 courts in China have published 10.5 million judicial opinions online (http://www.court.gov.cn/zgcpwsw/), with clicks hitting 310 million.
More than 2.5 million defaulters have been forbidden to leave the country, take a plane or secure loans.

Related: Chinese courts: more transparency for better performance
By Xinhua
Updated: 2015-07-02

Chinese citizens could now look up information on trials, verdicts and the implementation of court decisions of courts across the country online.
All Chinese non-military courts are now linked to a "judicial big data center", a central database for trial information and verdicts, the Supreme People's Court (SPC) announced Thursday.
According to the SPC, the project aims to propel judicial organs to improve their performances through increasing transparency.
All 3,511 courts are now all able to upload information on trials, verdicts and the implementation of court decisions to the central system, which was launched in June 2014.
The project will make information more accessible to the public, while ensuring data is better managed, according to the SPC.
It also links the courts with government branches and banks, facilitating enquiries and the freezing of accounts that belong to those who default on court decisions, the SPC said.
The center has released names of 1.65 million defaulters, who have been subsequently blocked by civil aviation and railway authorities, it said.