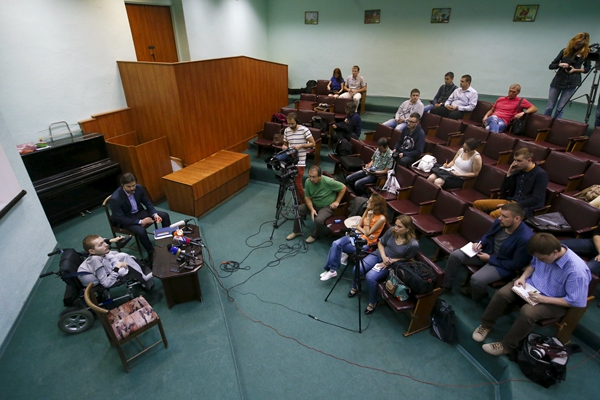 Valery Spiridonov, the man who has volunteered to be the first person to undergo a head transplant, attends a news conference in Vladimir, Russia, June 25, 2015. The 30-year-old Russian, who has a degenerative muscle condition known as Werdnig-Hoffman, will be operated upon by Italian neurosurgeon Dr. Sergio Canavero who believes he has a 90 percent chance of success. [Photo/Agencies]
The first human head transplant may be carried out in Dec 2017 as Italian neurosurgeon Dr Sergio Canavero has announced that he, along with a team of surgeons from China and other countries, is expected to do it at Harbin Medical University in China.
Ren Xiaoping, a professor from Harbin Medical University, is the head of the Chinese team for the operation. He told the China Voice program of China National Radio on Monday that his team and Dr Canavero have been talking about pre-clinical research cooperation for the operation, but the exact timetable, place and whether or not they should operate on patients with this particular disease have not been determined yet.
"It is possible to carry out a human head transplant if the condition of pre-clinical research is as effective and sound as we expected and various supports are there for the operation in two years," said Ren.
The preparations for the operation are underway.
Prominent and dedicated scientists from about ten universities at home and abroad are willing to join the team, including plastic surgeons from the Second Military Medical University and Fudan University in Shanghai, engineering professors from Beijing Normal University and those from North America and Europe, said Ren.
Ren's team is also negotiating with engineering professors from Harbin Institute of Technology on medical equipment, some of which have patented designs, he added.
"Such an operation cannot be achieved by a single man. My task is to initiate such an enormous project, which may not be solved by our generation", he said, "But we build a platform for the followers, accelerate its progress towards clinical application, train a group of young people and even enhance the reputation of our nation in international circles."