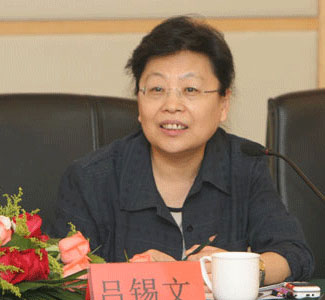 Lyu Xiwen, deputy Party chief of Beijing, is being investigated for suspected "severe disciplinary violations".[Photo/Xinhua]
Beijing's deputy Party chief Lyu Xiwen is under investigation for suspected "serious disciplinary violations", becoming the first high-ranking official in the capital under probe since the 18th Party Congress in 2012, the Communist Party of China Central Commission for Discipline Inspection announced on Wednesday.
Lyu, born in 1955, ranks third in the CPC Beijing Committee after Beijing's Party chief, Guo Jinlong, and its mayor, Wang Anshun. She is the third high-ranking female official to be investigated on suspicion of corruption since 2012.
Beijing is the last provincial-level region on the Chinese mainland to find allegedly corrupt top officials since the 18th Party Congress.
On the same day, the CCDI announced that He Jiacheng, former executive vice-president of the Chinese Academy of Governance, another ministerial-level official, has been expelled from the CPC and dismissed from public office for multiple offenses including graft and hindering an official investigation.
He "severely violated political discipline and interfered with and hindered investigations," the CCDI said.
Immediately after the announcement about Lyu, the CPC Beijing Committee held a meeting to notify its members. Party chief Guo delivered a speech to fully support the CCDI's anti-graft decision. As a top official, Lyu has damaged the image of the Party, and her case offers a lesson for other officials, Guo told the meeting.
Beijing and Shanghai are regarded as the two most important cities in China for their economic and political impact on the country. For nearly three years, the two municipalities had not uncovered any cases of high-ranking official corruption, but this week has seen one case each in the two cities.
On Tuesday, the CCDI announced that Ai Baojun, vice-mayor of Shanghai, was under investigation.
huyongqi@chinadaily.com.cn