No letup for five days, watchdog warns as severe pollution spreads rapidly in cities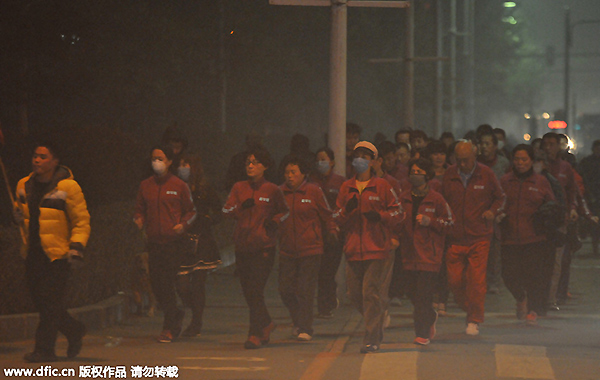 Local residents jog on street amid heavy smog for physical exercise, in Shenyang, Liaoning province, in the evening on Nov 9, 2015. [Photo/IC]
Thick smog will persist for the next five days in major cities in northeastern China that have seen extremely high air pollution readings since Friday, the national environmental watchdog said on Monday.
Severe pollution has spread rapidly in the three northeastern provinces - Heilongjiang, Jilin and Liaoning.
It affected 10 cities on Friday, 18 on Saturday and 21 on Sunday, Luo Yi, head of the Environmental Monitoring Department under the Ministry of Environmental Protection, said on Monday.
The concentration of PM2.5 - fine particulates that can be hazardous to human health - reached 1,107 micrograms per cubic meter as of 5 pm on Sunday in Shenyang, the capital of Liaoning province, the city's Environmental Protection Bureau said.
The national safety level for PM2.5 is 75 micrograms per cubic meter.
The reading was as high as 1,400 at some monitoring sites in Shenyang. The city government upgraded its emergency response level to the highest tier on Sunday afternoon.
Kong Lin, a 32-year-old Shenyang resident, said, "Although I wore a mask on Sunday, I still had a sore throat and eyes after walking for a while."
The concentration of PM2.5 in Changchun, Jilin, reached 860 micrograms per cubic meter at 8 am on Monday, and another 17 cities in the region also had severe air pollution, the ministry said.
But Chai Fahe, deputy director of the China Research Academy of Environmental Science, said that air quality in Beijing may not deteriorate.
Chai said northerly winds were blowing at times in the area, which were unlikely to bring air pollutants to the capital.
The Shenyang environmental watchdog said coal consumption has soared to provide heating since Nov 1.