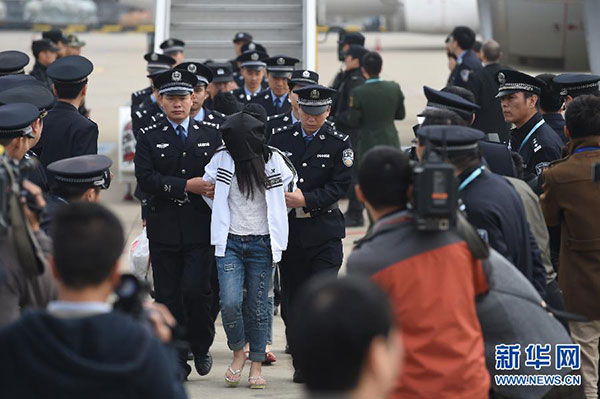 Suspects involved in telecom swindle cases are escorted off an aircraft by the police at Hangzhou Xiaoshan International Airport in Hangzhou, capital of east China's Zhejiang Province, Nov 10, 2015. A total of 254 suspects from the Chinese mainland involved in telecom swindle cases were sent to the mainland on Tuesday morning from Indonesia and Cambodia under the escort of Chinese police, according to the Ministry of Public Security. [Photo/Xinhua]
Indonesian and Cambodian authorities Tuesday transferred 254 suspects from the Chinese mainland accused of involvement in a major international telecommunications fraud to police, the Ministry of Public Security said.
The fraud was active in Hong Kong and more than 20 provinces and regions across the mainland, the ministry said. The suspects arrived in Beijing, Shanghai, Hangzhou and Guangzhou on four chartered flights from Jakarta and Phnom Penh.
The ministry sent teams to Indonesia and Cambodia in October, and worked closely with counterparts from Taiwan and Hong Kong to identify and locate suspects, and collect evidence.
On Oct 19, Chinese mainland police, assisted by Taiwan and Hong Kong police and their counterparts in Indonesia, conducted a unified arrest and detained 224 suspects in Indonesia, including 86 mainlanders and 138 Taiwan residents.
Meanwhile, Guangdong police arrested 39 suspects in the province who had returned from the Indonesia and Philippines and uncovered more than 3,000 incidents of telecom fraud, including many that occurred in Hong Kong.
On Oct 31, mainland police worked with their counterparts from Cambodia to bust three criminal networks and detained 168 suspects. They also seized computers, mobile phones and bank cards.
The ministry said it will strengthen judicial cooperation with its counterparts in the relevant countries to share intelligence, case investigations and suspect repatriation.
"No matter where they have escaped, we will seek to bring them back to face trial," the ministry said in a statement.