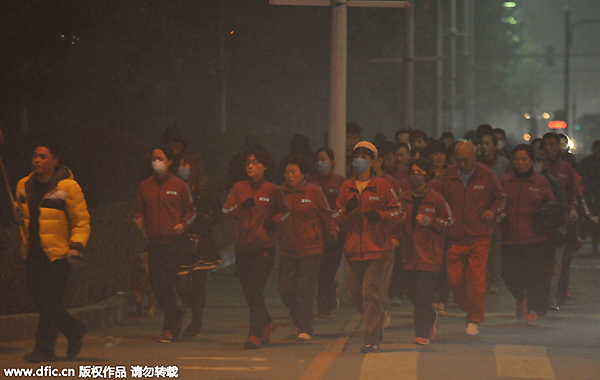 Local residents jog on street amid heavy smog forphysical exercise, in Shenyang, Liaoning province, in the evening on Nov 9, 2015. [Photo/IC]
Heavy smog will blanket China's North and Northeast regions for at least another three days, continuing a persistent hazardous haze that has been driving choking and coughing residents to the hospital in Liaoning province.
Liaoning has registered chart-topping levels of air pollution for several days, leading to an influx of patients suffering respiratory distress in the province's capital of Shenyang.
Beijing and some cities in Hebei and Shandong provinces will be covered by heavy smog, and cities in the northeastern region, including Liaoning, Jilin and Heilongjiang provinces, will experience worsening air pollution through Thursday as weather conditions prevent the dispersal of pollutants, the National Meteorological Center said Tuesday.
The severe air pollution should slightly ease in weak winds on Friday, but will return to hazardous levels over the weekend, the center said.
At some monitoring stations in Beijing, the concentration of dangerous fine particulates, or PM2.5, had reached 171 microgram per cubic meter at midmorning, more than twice the safe standard. The Beijing Environmental Protection Bureau said the current severe air pollution may worsen until Friday.
In response, Beijing and Liaoning province this morning raised the air pollution alert to yellow, the lowest level in a three-tiered smog warning system.
Residents in Liaoning province have been experiencing severe smog since Friday. The PM2.5 concentration reached 1,400 micrograms per cubic meter in Shenyang on Sunday, according to the city's environmental protection bureau.
Many residents rushed to the hospital complaining of respiratory distress, the Xinhua News Agency reported.
Yang Shenjia, a doctor at Liaoning Jinqiu Hospital, said the respiratory department had been flooded with patients complaining of coughs and sore throats, adding they have accounted for 35 percent of the daily outpatient visits in recent days, Xinhua reported.
Shanghai also has experienced serious smog since Monday and the air quality was forecast to deteriorate in increasing humidity.
Choking air pollution that is troubling residents in the northeastern regions may travel south, but the smog likely will dissipate over the long journey to Shanghai, the Shanghai Morning Post reported on Tuesday.