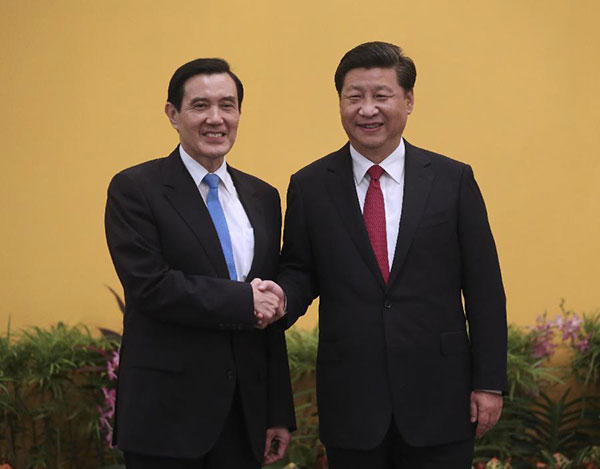 Xi Jinping (R) shakes hands with Ma Ying-jeou during their meeting at the Shangri-La Hotel in Singapore, Nov. 7, 2015. [Photo/Xinhua]
BEIJING - The historic meeting between Xi Jinping and Ma Ying-jeou in Singapore will have great significance on the development of cross-Strait relations, the mainland's Taiwan affairs chief said in a statement released late Sunday.
Xi and Ma met on Saturday afternoon in the first meeting between leaders of the two sides of the Taiwan Strait since 1949, turning a historic page in cross-Strait relations.
In a mutually respectful and constructive manner, the two sides candidly exchanged views on cross-Strait relations, focusing on peaceful development and national rejuvenation. Positive consensus has been reached, said Zhang Zhijun, head of the Taiwan Work Office of the Communist Party of China (CPC) Central Committee and the Taiwan Affairs Office of the State Council, in the statement.
After the face-to-face meeting, Xi and Ma had a dinner in a "cordial and easy" atmosphere, according to the statement.
During the meeting, the two leaders acknowledged major achievements made in peaceful development of cross-Strait relations since 2008. Both sides agreed to continue to stick to the 1992 Consensus, consolidate common political ground, promote peaceful development of cross-Strait relations and safeguard peace and stability of the Taiwan Strait.
It was also agreed that the two sides should strengthen communication and dialogues, widen exchanges, deepen cooperation and achieve win-win results that benefit the people. People across the Strait belong to one Chinese nation and should join hands to work for the national rejuvenation.
Such consensus has set the direction, foundation, path and target for the development of cross-Strait relations, according to the statement.
The meeting has lifted the cross-Strait communication and interaction to a new level and marked a key step of high-level interactions, it added.
The results achieved during the meeting has laid a solid foundation and created more space for communication at all levels and cooperation in various fields in the future, it said.
The meeting showed that on the basis of the one-China principle, the two sides are fully capable of promoting the peaceful development of cross-Strait relations through establishing and enhancing high-level communication and mutual trust, it said.
The meeting has consolidated and deepened common political foundation for the peaceful development of cross-Strait relations as both leaders have confirmed the 1992 Consensus, it said.
Approved by both sides, the 1992 Consensus enjoys widespread public support. It reflects the one-China principle and clearly defines the fundamentals of the cross-Strait relations, making it clear that the mainland and Taiwan belong to one China, the cross-Strait relations are neither those between countries nor "one China, one Taiwan," but internal relations inside a country, said the statement.