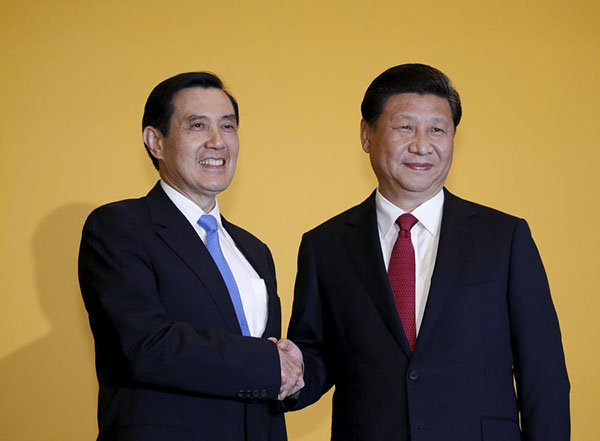 Xi Jinping and Ma Ying-jeou shook hands on Saturday afternoon in Singapore in the first meeting between leaders of the two sides of the Taiwan Strait since 1949, opening up a historic page in cross-Straits relations. [Photo/Agencies]
As a woman from mainland who married a Taiwan resident, I would like to express my sincere support for the meeting between top leaders Xi Jinping and Ma Ying-jeou to be held in Singapore on Nov. 7. All my Taiwan friends are also looking forward to it. And I also hope that the peaceful and fruitful conversation can help both sides work together to collaborate more closely and make cross-Straits policies more open, benefiting the residents of both sides.
It has been two years since I moved to Taiwan. Every day people around me are talking frequently about cross-Straits issues; consequently, I pay more attention to politics than when I was in the mainland because it now probably has something to do with me.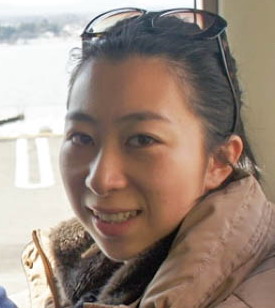 Keylee Sun [Photo provided to chinadaily.com.cn]
Eight years have passed since Ma Ying-jeou took the oath of office. Through these years cross-Straits relationships have improved a lot, policies on various aspects have seen steady progress, and communications between the sides are also growing prosperously. An example is the policy that allows mainland residents to travel across the Taiwan Straits as individual tourists, which really makes it more convenient for many of my friends and relatives to travel to Taiwan.
Take Shanghai as an example, if it's not your first time to visit Taiwan, you can get a visa immediately on your original mainland travel permit for Taiwan residents at the Shanghai Exit-Entry Administration Bureau. And on the other side, the processes of applying for the entry permit for Taiwan residents to come to the mainland are also simplified. My husband used to apply for a new visa stamped on his MTP every time he need to come back to the mainland, which takes 3-5 work days. Now the new policy issued this June allows Taiwan residents to travel freely to the mainland without the visa. It's huge progress and people are really benefiting from it .
While apart from the positive aspects, we still have many difficulties when faced with financial and trading problems, especially with legal procedures. One of my friends from the mainland planned to set up a limited company in Taiwan, involving a cross-Straits network platform. However he finally had to give up on it because of the complicated procedures and high taxes. Besides, if a Taiwan resident would like to purchase property in the mainland, it must be under the condition that he has already lived on the mainland over a year. Only then can he get the loan. Furthreore there are also various notarial procedures managed by both sides, so it adds more to the acquisition costs.
All in all, we hope that the political forces from both sides could strive for building a more peaceful environment to better serve the well-being of their residents, overcome the previous obstacles and difficulties, to formulate more policies to facilitate the daily lives of residents on both sides. This historic meeting is proof that such an endeavor takes place under the steady belief in the name of the whole Chinese nation.
The author is a freelancer in Taiwan and co-writer of the book "Chinese Family Trip".