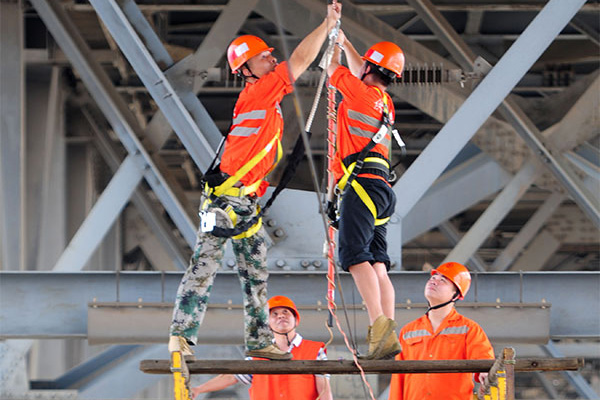 Workers reinforce a bridge on the Yangtze River in Jiujiang, Jiangxi province. [Photo/China Daily]
The vision of building a "moderately well-off society" (xiaokang shehui) by 2020, formulated in the early 2000s, is an important goal of China's 13th Five-Year Plan (2016-20). What can China look to learn from experiences of "advanced" welfare states, the "Nordic welfare model" in particular?
The Nordic welfare model highlights the apparent relative success story of the four Nordic countries of Denmark, Finland, Norway and Sweden during the recent global financial crisis.
China's decades of economic success is recasting it back to become the world's leading economy, a position it held during 18 of the last 20 centuries. But social challenges persist, and new ones appear, prompting the introduction of a great number of social reforms.
Over the years major social policy reforms aimed at universal population coverage have been passed, for example, for healthcare, pensions and education. And life expectancy has improved for the vast majority of the people. But income distribution has become very unequal and rural-urban disparities are striking. Issues of social justice, equality, sustainable development and welfare have shaped the political discourse in recent years.
Can the Nordic experience be of inspiration for the next phase of building the Chinese welfare society?
Not one feature, but a specific combination of features, justifies the concept of a Nordic type of welfare state. Welfare states with "Nordic characteristics" combine the normative foundation of strong public responsibility for citizens' welfare, the principle of universal population coverage of social security, healthcare and welfare, a "passion for equality", and a consensual system of governance through which social policies are developed and politically agreed upon.