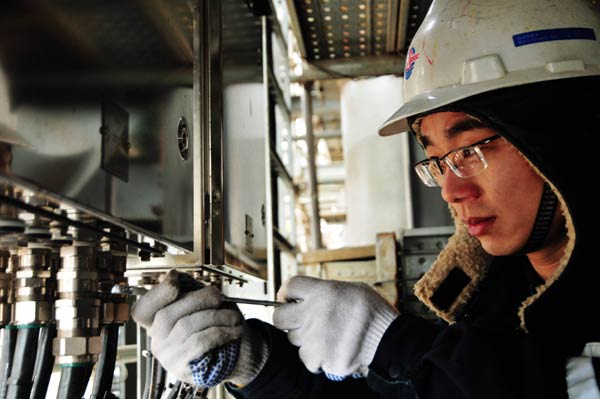 A worker connects electric cables at an offshore oil engineering company in Qingdao, Shandong province. [Photo/China Daily]
BEIJING - China will implement reforms to improve employee welfare and better the wage payment system, the central government announced Wednesday.
Improving labor relations is now an urgent task as the country is undergoing major economic and social changes with diversifying employee appeals and increasing labor disputes, according to a guideline released by the Central Committee of the Communist Party of China and the State Council.
China will take steps to improve the wage payment system to make sure employees are paid timely and in full. Pilot programs will also be enacted to offer guaranteed financial support for arrears of wages to protect the interests of rural migrant workers, who are often the victims of unscrupulous employers, the guideline said.
Meanwhile, more regulations will be issued to ensure employees enjoy their due holidays without compromising wages.
Employers are asked to invest more in labor safety education, training and protection facilities to reduce workplace accidents and occupational diseases.
China will try to expand the coverage of social insurance to all employees, especially for disadvantaged communities such as rural migrant workers and outsourced employees, the guideline said.