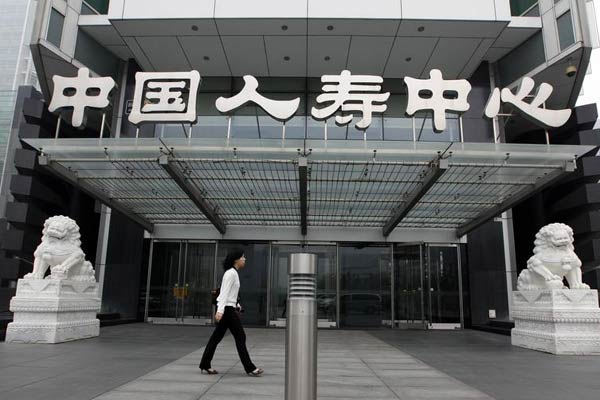 A woman walks past China Life Insurance Co Ltd headquarters building at Beijing's Financial Street in this October 26, 2012 file photo. [Photo/Agencies]
NEW YORK - China's two largest insurance companies had their first bite of US commercial real estate, buying a majority stake in a $500 million project in the city of Boston.
China Life Insurance Company and Ping An Insurance Company of China will serve as co-investors in Tishman Speyer's prime waterfront site at Pier 4 in Boston's popular Seaport District, Tishman Speyer Properties, one of the world's leading developers, announced Wednesday.
China Life Insurance Co, which is the country's largest insurer by premiums, and Ping An Insurance Group, which ranks second, bought a majority stake in the project which will take up most of Pier 4, according to a person familiar with the transaction.
However, the size of the two Chinese insurers' stakes were not immediately known.
China Life, through its subsidiary China Life Investment Holding Company Limited, and Ping An, through its real estate investment platform, Ping An Real Estate Company Limited, are investing alongside Tishman Speyer Real Estate Venture VIII.
Tishman Speyer acquired the development site in December 2014 and it will serve as general partner and manage the day-to-day development of the project.
The company recently announced plans to build a 13-story, commercial building, primarily for office use, and a nine-story, 100-unit luxury residential condominium building. Both buildings will include ground floor retail/restaurant space, and the site plan also includes a new one-acre public park.
Construction is scheduled to begin in the fourth quarter of 2015, with completion of both new buildings in 2018.
"In that time, we have forged strong, productive relationships with both China Life and Ping An. We are really pleased that they have chosen to join us on this project," said Tishman Speyer Co- CEO Rob Speyer.
"It is a good start for China Life, which will expand its real estate investing in America, and it will promote closer cooperation in our world," said China Life Investment Holding in a statement.
Ping An Real Estate said, "This is another step forward for us in developing a strong ongoing business relationship with Tishman Speyer."
"Ping An and Tishman Speyer have previously conducted business together in China and we are confident that they will be a very good partner for us in our first foray into the United States real estate market," it said in a statement.