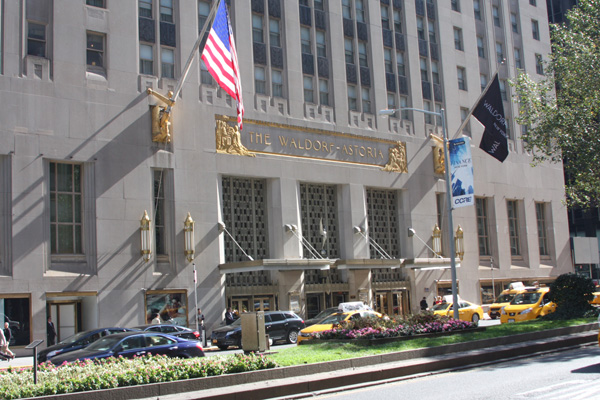 The Waldorf Astoria, a landmark New York hotel, is to be sold to Anbang Insurance Group for $1.95 billion, one of the highest prices per room ever paid for a US hotel. Jack Freifelder / China Daily 
China's Anbang Insurance Group has acquired the world-renowned Waldorf Astoria hotel in New York for $1.95 billion.
Hilton Worldwide Holdings said on Monday it has reached an agreement to sell the 60,000-square-foot landmark property that straddles Lexington and Park avenues.
It will be the largest amount paid for a US hotel, according to research firm Lodging Econometrics, and the highest price paid by a Chinese buyer for a US property, according to commercial real estate brokerage CBRE Group.
When Anbang's purchase is completed, Chinese investors will have spent $2.7 billion on New York-area real estate in 2014, exceeding last year's total by $100 million, according to Real Capital Analytics, a research firm that tracks commercial real estate sales.
The purchase is Anbang's first major deal in the United States, and The Wall Street Journal reported on Monday that Anbang had to beat out two other bidders.
"There really are no other sales to compare it with," Bruce Ford, senior vice-president and director of global business development at Lodging Econometrics, told Bloomberg News on Monday. "It is the most unique asset with the most unique location in the world."
The historic hotel has been the top-choice accommodation for a series of Chinese leaders and celebrities including former leaders Deng Xiaoping, Jiang Zemin and Hu Jintao.
Last month, the Waldorf Astoria was abuzz with hundreds of investors gathered to see Alibaba Group Holding founder Jack Ma kick-start the company's IPO roadshow.
The venue was fitting in its history and grandeur for an event that would lead to the biggest IPO ever. However, Ma is only the latest in a long line of famous Chinese to have graced the hotel, which has often witnessed key developments in China-US relations over the course of its illustrious history.
After the founding of the People's Republic of China, the hotel remained the accommodation of choice. Deng Xiaoping, then vice-premier, stayed there during his first trip to the US to attend the United Nations General Assembly in 1974. It was also there that the US secretary of state, Henry Kissinger, hosted a banquet in honor of Deng.
Deng set a precedent for future Chinese leaders.
Former president Jiang Zemin stayed at the Waldorf Astoria during his first trip to the US in 1997 and again in 2000, when he met with then-president Bill Clinton.
His successor, Hu Jintao, followed suit, staying in September 2005 to attend the 60th anniversary of the United Nations and in September 2009 for a meeting with President Barack Obama.
Other Chinese leaders to have stayed at the Waldorf Astoria include Li Peng, Zhu Rongji and Wen Jiabao.
Under the purchase agreement, Hilton will manage the 1,232-room hotel. The two companies said they plan to undertake a major renovation that will "restore the property to its historic grandeur", according to a media release.
Christopher J. Nassetta, president and CEO of Hilton Worldwide, said in a statement on Monday that Hilton is very excited to be starting a long-term relationship with Anbang.
"This relationship represents a unique opportunity for our organizations to work together to finally maximize the full value of this iconic asset on a full city block in midtown Manhattan," Nassetta said.
"It will ensure that the Waldorf Astoria New York represents the brand's world-class standards for generations to come."
Hilton said it plans to use the proceeds from the sale to make additional acquisitions in the hotel and hospitality sector, but no information about future purchases has been announced.
Kevin Mallory, global head of the hotel unit at CBRE Group, said the $1.95 billion for the Waldorf Astoria is the most paid by a Chinese buyer for a US property.
"We're seeing a diversification strategy being employed by insurance companies and others, and it's also true when it comes to private Chinese investors," Mallory said in an interview with Bloomberg News.
Mu Chen contributed to this story.
 Investors targeting overseas property