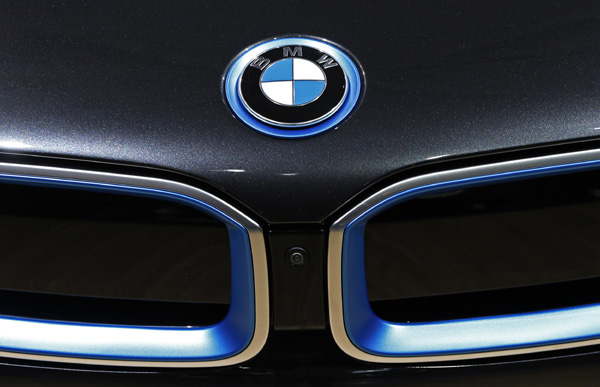 A BMW logo is seen on a car at the Brussels International Auto Show January 22, 2015. [Photo/Agencies]
BEIJING - BMW China Automotive Trading Ltd will recall 53,317 BMW vehicles on the Chinese mainland, China's quality watchdog said in two consecutive notices on Wednesday.
The recall mentioned in the first notice starts on Monday, involving vehicles manufactured between Oct 1, 2011 and Dec 1, 2013, according to the General Administration of Quality Supervision, Inspection and Quarantine.
Flawed engine wiring harnesses may short out power supply and cause accidents, the notice said.
The vehicles affected by the recall are the X3 xDrive 20i, X3 xDrive 28i and X3 xDrive 35i.
The company will repair the flawed parts free of charge.
Shortly after, the administration issued another notice on Wednesday, saying BMW China Automotive Trading Ltd. and BMW Brilliance Automotive Ltd., a joint venture of BMW Group and Brilliance China Automotive Holdings Ltd, will further recall a total of 26,418 vehicles due to flawed electric fuel pumps which could lead to flameouts.
To be specific, 15,001 of the vehicles affected by the recall are BMW 316i, 320i, 320Li, 328i, 328Li, 335Li which are made by the joint venture in China between Oct 26, 2013 and Mar 28, 2014. The others are 21 different models of imported BMW vehicles which were manufactured from June 14, 2012 to March 17, 2014, including 116i, 118i, 125i, M135i, 220i, 420i Coupe, 320i GT and 428i Gran Coupe.
The second recall will start on July 8.