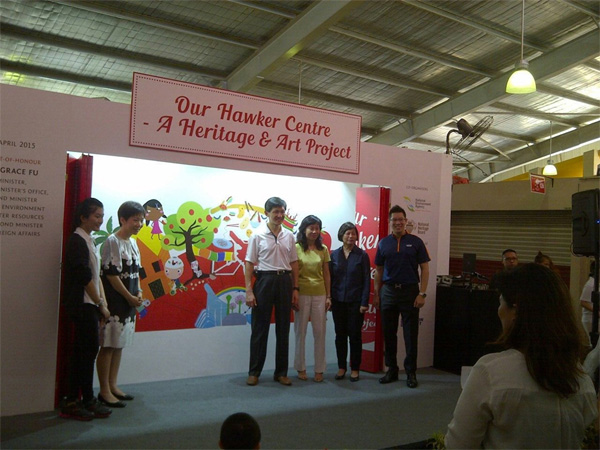 "Our Hawker Centres – A Heritage & Art Project" in Singapore. [Provided to chinadaily.com.cn]
NIPSEA Group, the parent company of Nippon Paint, has gained recognition for its Corporate Social Responsibility (CSR) programs, including its Project Hope; Color, Way of Love; Colourful Dreams; and Nippon Paint Young Designer Award (NPYDA). As a leading coatings provider in Asia, NIPSEA Group is committed to bringing colours and hopes to more people in Asia.
In Singapore, NIPSEA Group focuses on giving back to the community as well as raising public awareness of the heritage and value of local culture. In 2014, NIPSEA Group started a program named "Paint with Love" by donating 300 litres of paint and painting tools and mobilising 76 staff volunteers to paint three therapy centres for the Singapore Society for Physically Disabled (SPD). The renovation of SPD centres not only provided the centres a clean and refreshing look, but also forged a friendship between the NIPSEA staff in Singapore and the residents in the centres. Moreover, NIPSEA has joined hands with the National Environment Agency (NEA), National Heritage Board (NHB) and National Arts Council (NAC) to organize the "Our Hawker Centres – A Heritage & Art Project".
Sponsored by over 70 schools, organizations and artists, the project will invite students to create murals and art installations in more than 40 hawker centres. The project is an attempt to celebrate Singapore's hawker culture and highlight the heritage of the country's neighbourhoods by incorporating art within existing hawker centres.
NIPSEA provides participating students with premium paint and painting tools worth over S$40,000, helping them promote creative and colourful concepts. An SG50 paint can has been specially produced for the project and features Singapore's modern metropolis landscape on its graphics. It also epitomizes the unity and friendship among students, organisations and artists.
The project commenced in January 2015 and is expected to be completed by the end of July 2015, ahead of Singapore's National Day.
In Malaysia, NIPSEA focuses on helping underprivileged children and has launched three charity projects entitled "Colorful Dreams", "Colorful Reads" and "Colorful Picasso". In its "Colorful Dreams" program in 2013, NIPSEA worked with the charitable foundation Persatuan Kebajikan Generasi Gemilang (PKGG) and its business partners to paint poor children's homes.
In 2014, NIPSEA launched the "Colorful Reads" and "Colorful Picasso" projects in Malaysia. As part of the project, children's works from the Juara Home, Kasih Harmoni Home and Gurpuri Foundation for Children were put on display at a children's exhibition in December 2014. The exhibition showcased many heart-warming art works and helped raise funds for the children. The funds raised will be distributed to the children as a start-up fund when they turn 18 years old.