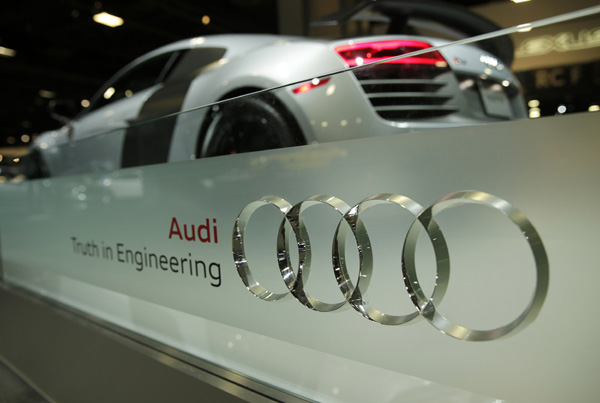 The Audi four rings logo is seen with an 2015 R8 Competition coupe at the press day for the Washington Auto Show in Washington January 22, 2015. [Photo/Agencies]
MUNICH - German automaker Audi AG sold 177, 950 cars in March, delivering more automobiles in a single month than ever before, the firm announced Monday.
The sales figure in March jumped 4.4 percent year on year, marking an increase in sales for 63 months in a row.
In the first quarter of 2015, Audi saw growth in all regions and sold about 438,250 units worldwide, with sales increasing 6.1 percent compared with the same period last year, according to an official statement.
In China, Audi's sales rose significantly by 7.1 percent to 133, 316 deliveries in the first three months. In March alone, the sales figure in China saw a year-on-year rise of 1.5 percent.
"Our new record in the first quarter makes for a successful start into the new year, and we intend to continue this trend throughout the rest of the year," says Luca de Meo, Audi board member for sales and marketing.
"In the second half of the year, our new Audi Q7 will also start contributing to these figures in Europe. The initial response by customers and dealers has been very good, and orders are already exceeding our expectations even before the model has hit the showrooms," he stated.