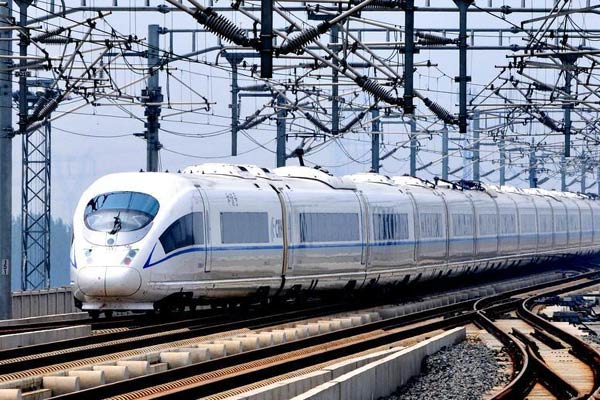 A CRH train that runs on the Beijing-Shanghai High-Speed Railway leaves Tianjin South Railway Station in North China's Tianjin, June 30, 2012. [Photo/Xinhua]
China's vice-premier has called for a railway investment target of 800 billion yuan ($128.72 billion) to be met and more than 8,000 kilometers of extra lines put into operation.
A weekend work conference, presided over by Ma Kai in Southwest China's Chongqing municipality, focused on China's regional railway development.
Data from the Ministry of Transport showed that investment hit 46.2 billion yuan in the first two months of this year, up 8.2 percent year-on-year.
As investments in the past two years were beyond targets, this year's investment is likely to surpass 800 billion yuan, 21st Century Business Herald reported on Tuesday, citing Rong Chaohe, professor at the school of economics and management in Beijing Jiaotong University.
Railway investment has seen a steady increase during the country's 12th Five-Year Plan period (2011-15), from 580 billion yuan in 2011 to 800 billion yuan last year, according to the newspaper.
This year's railway construction target was announced by Premier Li Keqiang in the government work report earlier this year. The report also said that by year-end, all cities in China with a population of more than 500,000 will be connected by high-speed railway.
China had more than 16,000 kilometers of high-speed rail at the end of last year, up from 11,000 at the end of 2013, and 28 of the mainland's 31 provinces now have access to bullet trains.