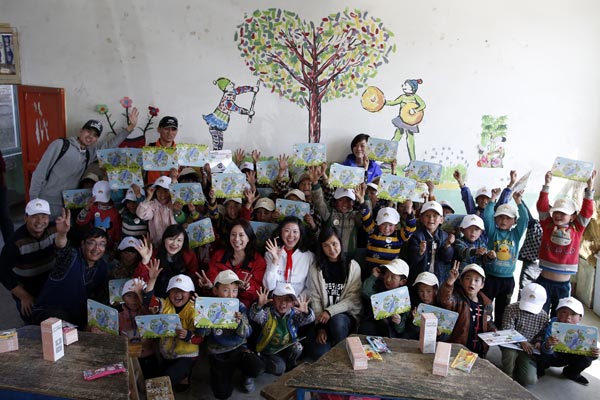 Nippon Paint's "Color , Way of love" team and China Dailyvisited a Hope Primary School in Gansu province. [Photo/China Daily]
A group of staff from Nippon Paint's "Color , Way of love" charity project and China Daily, a new partner in Nippon Paint's charity project, visited a Hope Primary School in Dongxiang county, Northwest China's Gansu province, on March 26. This marked a new chapter for Nippon Paint's CSR project in 2015.
When Nippon Paint China announced its brand upgrading program in 2014, it also upgraded its corporate social responsibility (CSR). The company not only takes part in various charity activities to fulfill social responsibilities, but also has made it part of its company policy and philosophy.
Either in automatic production or coating system development, Nippon Paint has integrated the environment protection into its business strategy to realize the sustainable development of the company and environment. In addition, the company has also devoted itself to the charity career and called on more people to join its CSR project in an effort to enhance attention to social vulnerable groups and help boost public spirit.
It was an innovative move by Nippon Paint to develop and promote an integrated coating system in the painting industry. "In order to make products more environment-friendly, we have reduced the content of volatile organic compounds (VOC) by promoting automatic production and optimizing coating technology," said Eric Chung, the Nippon Paint china president. By 2014, Nippon Paint has made sure all of its emulsion paint products have much lower VOC content.
Apart from its original painting manufacturing factories, Nippon Paint has opened new material factories in 15 cities across China in order to upgrade its coating and production systems., It ensures its product reliability by improving the quality of raw material list uses and enhancing its "Repainting Services". In the production process, carbon dioxide emission and energy consumption of products per ton were reduced by 24 percent and 17 percent respectively compared to the last year.