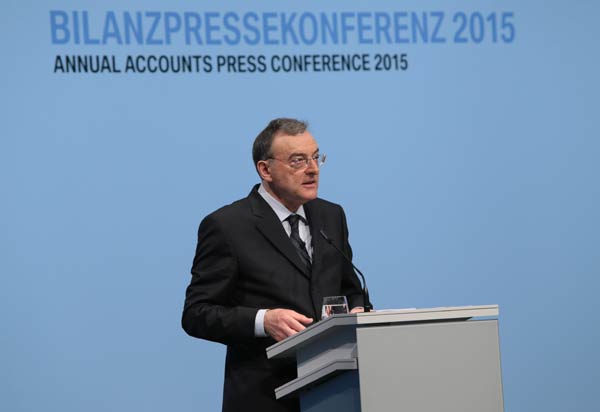 BMW Chairman and CEO Norbert Reithofe. [Photo provided to China Daily]
German premium carmaker BMW AG plans to further its localization in China, despite a slowdown in what is its biggest single market, as part of efforts to maintain its lead in the world's luxury auto industry.
Company Chairman and CEO Norbert Reithofer said last week at a press conference in Munich that it is strengthening local production in China and would produce six BMW models "specifically" for the Chinese market in the coming years.
"We have extended our joint venture with Brilliance ahead of time until 2028," Reithofer said.
BMW's joint venture with Brilliance in the northeastern city of Shenyang now manufactures three models - the 5 Series and 3 Series sedans and the X1 compact SUV.
The group's sales on the Chinese mainland surged by 16.6 percent last year from 2013 to 456,732 units, keeping the country as its largest single market in the world followed by the United States, Germany and Great Britain.
Reithofer said the Chinese market is "losing steam" and will slow to a more normal pace as a result of the deceleration of the economy of China.
"Slower economic growth will also affect the automotive industry. We continue to consider this in our strategic planning," he said.
Earlier this month, the Chinese Government cut its 2015 economic growth target to 7 percent from 7.5 percent last year. The economy has entered a period of the "new normal", which features a slower pace of growth but improved growth quality.
BMW Group's global sales, including the three brands of BMW, MINI and Rolls Royce, rose by 7.9 percent to 2.12 million units last year from 2013. Meanwhile, it reaped 8.71 billion euros ($9.42 billion) in profit before tax, up 10.3 percent.
Referring to the group's business targets in 2015, Reithofer said, "We intend to remain the world's leading premium car company."
Although the Chinese car market is decelerating, analysts said it is still crucial to premium carmakers to become global champions in terms of brand sales.
Audi, BMW's closest rival globally, moved more than 570,000 cars in China last year, maintaining its lead in this market for more than two decades.
Audi's global sales last year reached 1.74 million cars, only 70,000 units less than BMW's 1.81 million units.
Ian Robertson, BMW Group's board member and sales chief, said the Chinese market still has a rosy prospect when compared with other major markets, although growth has slowed to single digits from "high double digital" over the past several years.
In the first two months of this year, BMW Group reported sales growth of more than 7 percent from a year earlier, Robertson said.
"We will continue to introduce new products to keep our strong competitiveness in the Chinese market. We believe entry-level premium models will have much growth potential in China and you can imagine what locally made models we will have," he said in an interview.
He stressed the carmaker will pay more attention to small and medium-sized dealerships in China and help them expand their business, such as by offering car financing.