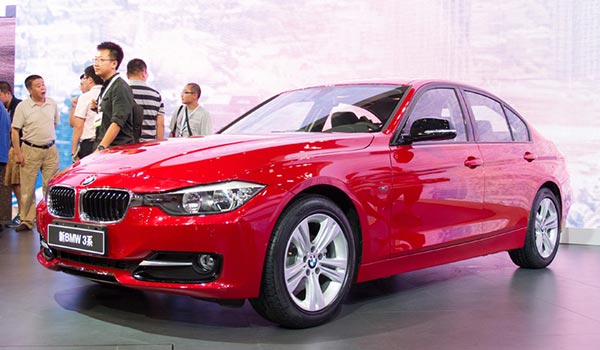 A BMW 316i Sport Line sedan is pictured at the 16th Chengdu Motor Show, Aug 30, 2013. [Hao Yan / chinadaily.com.cn]
Bayerische Motoren Werke AG has agreed to pay 5.1 billion yuan ($820 million) to its distributors in China to help cover their losses after retailers stopped ordering cars from the German auto manufacturer, a dealer's group said.
The subsidies are the largest by an automaker to its retailers in China and will be paid by the end of February, said Song Tao, a deputy secretary-general of the China Automobile Dealers Association, which represented the BMW distributors in the negotiations. The dealers are still in talks with the Munich-based carmaker over this year's sales targets, he said.
Auto dealers have complained of meeting unrealistic sales projections in order to qualify for year-end bonuses as foreign automakers expand their manufacturing capacity and number of distributors to chase market share.
The BMW payout may increase pressure on other automakers to extend similar support to their retailers, including Toyota Motor Corp, whose dealers are threatening to quit the sales network of its Chinese ventures because of mounting losses.
"This is an unusual move by an automaker to give funding of such a big scale," said Han Weiqi, an analyst with CSC International Holdings Ltd. "But in the long term, a smooth relationship with dealers is in carmakers' best interests and they have to meet dealers half way."
BMW shares fell as much as 2.8 percent to 85.56 euros ($101.8) and were down 2.1 percent in Frankfurt trading, valuing the company at 55.4 billion euros.
Slowing sales growth means a "new normal" is emerging in the country's auto market, BMW said in an e-mailed statement. The carmaker and dealer group "reached consensus on the structure of optimized business measures and financial allocation for the dealers", according to the e-mail.
The German automaker delivered 415,200 vehicles in China in the first 11 months of 2014, operating through a network of more than 440 BMW sales outlets and 100 Mini stores. BMW plans to help its dealers expand activities beyond selling new cars, including financial services and used car sales.
The additional activities offer "large potential" for BMW and its dealers, said the automaker, which will double the number of locally produced cars to six models in the next few years.