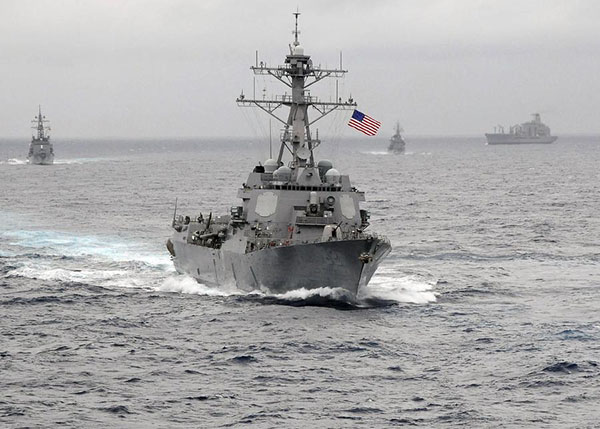 The US Navy guided-missile destroyer USS Lassen sails in the Pacific Ocean in a November 2009 photo provided by the US Navy. [Photo/Agencies]
Both China and the United States have to readjust their methods to deal with maritime operations following the tension created by the entry of US guided-missile destroyer USS Lassen into the waters near a Chinese isle in the South China Sea on Oct 27 without the permission of the Chinese government.
China strongly protested against the US warship's entry into the waters adjacent to its Zhubi Reef. Yet, instead of ending such operations deemed illegal and imprudent by China according to international law, Washington has insisted it would continue to conduct such "patrols" in the name of protecting freedom of navigation in the South China Sea. Such provocative remarks from the US could raise regional tensions.
But despite some media reports saying tensions in the South China Sea could spiral out of control, Beijing and Washington have exercised exemplary self-restraint to tide over the difficult situation.
To many, the major controversy lies in whether the US warship threatened China's sovereignty - because the baseline for measuring the breadth of the affected territorial sea remains unclear to respective parties - whether foreign ships are allowed to sail through the waters near China's built-up islands and reefs, and whether "freedom of navigation" can take precedence over a country's sovereignty.
For long, major global players have used freedom of navigation to promote their core interests. Sitting between the Pacific and Atlantic oceans, the United States has always promoted freedom of navigation and claimed it would fight for it at all costs. But in the past the US used to stay away from territorial disputes in the South China Sea. It used its military might to guarantee the safe passage of American ships, though, in disregard of China's territorial claims.
True, after World War II the US helped the Chinese government then led by Kuomintang to re-acquire some lost islands in the South China Sea, and tacitly acknowledged China's 1947 U-shaped maritime boundary that defined its sovereignty. But in the decades since, China did not actually control and manage all its islets and reefs in the South China Sea.