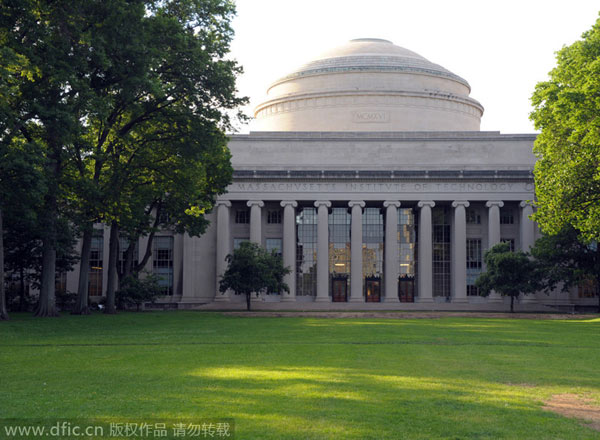 The main bulding of Massachusetts Institute of Technology (MIT) is seen in this file photo. [Photo/IC] 
Most Chinese students who have a dream to study at a highly prestigious university in America have their eyes set on the likes of Harvard, Princeton or perhaps Stanford. They want to go to the 'best' school so that they can carry away the honor of having attended the best college or university in the world. While it is true that any of these top schools (especially the Ivy League schools in the US) would possibly give you the best education in the world, there is another way to look at college education which can make it much more affordable for those who can't afford these famous institutions.
An organization called CollegeNET has also taken a closer look at the best choices for students in their academic pursuits. What they did was study which colleges give the student the best opportunities for earning money early in one's career, in comparison with the actual cost of getting their degree at a specific school. The list is focused on colleges that are best for lower income students. 
Let me explain. 
A well known website, www.payscale.com, will give you a list of schools that give the best overall return-on-investment for college. However, many of the schools listed there have a very high tuition rate, thus, eliminating those who can't afford to go there. CollegeNET relies on other data including the likelihood that you'll graduate based upon how many college freshman do eventually graduate from their school. They also take in consideration the stability of the school based upon its endowment.
I think about the poor student. In fact, I think about how many students are in the countryside here in China, who would definitely qualify to attend school abroad (if they so desired), yet, who believe that it is an impossible goal. I know that dotted around China, there are students who are brilliant and could achieve dreams that most will never consider because they also live with the belief that they could never afford it.
Victoria, a student that I taught for nearly two years, is just such a student. Her mother moved herself and daughter to Zhengzhou so that Victoria could get a better education than she would have in the countryside. Though poor, her mother was intelligent enough to believe in her daughter and that she could also eventually go on to a major school in the US. When she approached me about helping her to apply at Princeton, I suggested she think about a school that was more reasonable. She wouldn't hear of it and had determined that Princeton was her school. To my amazement, she scored 2243 on the SAT which was a high enough score to get her into almost any school she wanted. But, she wanted Princeton. 
I helped her through the application process and even did a Skype interview for her with admissions counselors there. She got accepted and is now attending Princeton on a full paid academic scholarship. I'm thrilled for her and humbled to have been at least a part of her success.
However, I wonder how many students never aspire to do anything so profound? How many brilliant students are sitting in small classrooms in obscure villages who have the potential to do amazing things like Victoria is doing?
This list is a solution for such students. I wished I could get it, along with the information that anything is possible with a brilliant student, into the hands of the perhaps tens of thousands of parents across China. I wished that they knew that much more is possible than they've like ever imagined.
Of greatest importance, CollegeNET looked at it with a view to underprivileged and financially poor students and how and where they might get the best education.
I'll share an image file of the top 7 schools. If you'd list the entire list in PDF file, give me your email address and I'll be happy to send it to you.
The original blog is at: http://blog.chinadaily.com.cn/blog-787069-32007.html