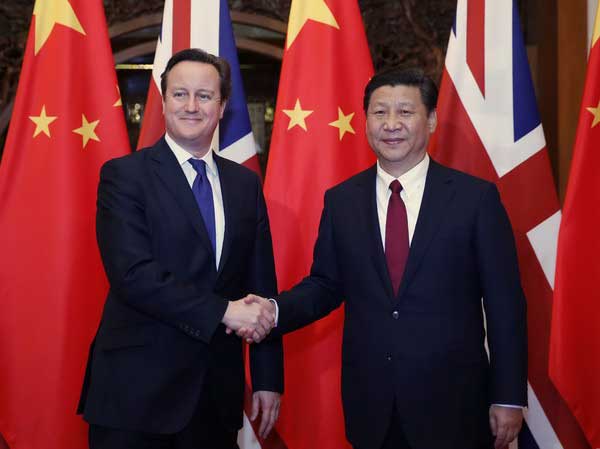 President Xi Jinping shakes hands with visiting British Prime Minister David Cameron in Beijing, Dec 2, 2013. [Photo/Xinhua] 
Chinese President Xi Jinping's visit to Great Britain is an important event in world politics, and it will promote world peace in the long run. China and Great Britain, two great nations of the world, are improving their bilateral relationship through mutual cooperation and dialogue. The Cameron administration and the Royal family of Great Britain are extending President Xi a very warm welcome, which the media is calling a super state welcome.

Han Dongping
China and Great Britain, both permanent members of UN Security Council, have different political systems and different values and different positions on world politics. But they are willing to put aside their differences and find common ground to cooperate on world politics. This spring, Britain took the lead to join the China sponsored Asian Infrastructure Investment Bank (AIIB), ignoring the repeated warning of its most important ally not to join. Britain's decision to join AIIB spurred many other western nations, like France, Germany, Italy and Australia, to join as well. The cooperation between China and European nations will promote more social, political and economic exchanges between China and Europe, and will further safeguard world peace.
China's economic development has been a powerful engine for global economy in the past three decades. Britain and other European nations have benefitted tremendously from China's economic viability. As the most sophisticated players in world politics, Britain and other European nations have tasted the benefit of respecting China's differences and cooperating with China economically, politically and socially.
Some country sees China's economic development and its rise in world politics as a threat to its supremacy, and is trying hard to undermine China's development. President Xi's important visit to Great Britain will show to the world. Any efforts to isolate China and provoke China would be unpopular in the end. It will be like lifting a stone to strike one's own foot. 
As the most populous nation in the world, China is the largest market in the world, and its importance in the world will only grow in the future. Anyone with any good sense would be able to see this. Great Britain has seen it, and other European nations have seen it as well. Africa and Latin America have seen it. With a social climate like this, any effort to isolate China would only succeed in isolating oneself in this world.
The author is a professor of Warren Wilson College and a guest professor of Hebei University.