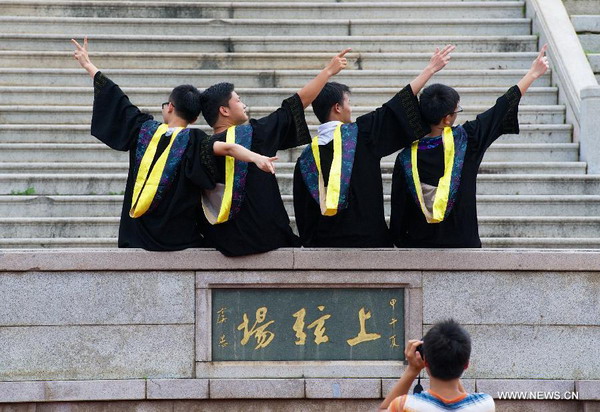 Graduates pose for photo at Xiamen University in Xiamen, southeast China's Fujian Province, June 18, 2014. Some 8,000 students will graduate from the university this year. [Photo/Xinhua]
After a recent visit to Xiamen University in East China's Fujian province, journalist Jia Jia wrote that universities should not limit the number of daily visitors, contending that a good university should have an open campus. This has sparked a heated debate. Comments:
Some say Western universities are without walls and open to all visitors. That's not true. In Cambridge, for example, the university is distributed across town but its colleges are surrounded by walls, and some of them charge an entry fee.
In China, some universities have tried to be open to all but that has often resulted in chaos. For example, people visit Wuhan University every year in huge numbers to view the cherry blossom, which causes traffic jams across half the city. In order to solve the problem, the university had to increase the entry fee during the cherry blossom season.
Some people say that as taxpayers they have the right to enter public-funded universities. They should not forget that all rights come with conditions. Universities are teaching and research institutions, not places of interest; they have the right to limit, even refuse, visitors to protect their normal order.
Nie Huihua, a professor at Renmin University of China, Nov 8
Xiamen University is surrounded by beautiful scenery, something its authorities have always been proud of. The university's official website even offers descriptions of the university's atmosphere and the surrounding scenery to attract highly qualified teachers and good students. As such, the campus has been a tourist destination for years.
But since the huge number of tourists often disturbs normal campus life, the university authorities have rightly limited the number of daily visitors. Nevertheless, the authorities need to strike the right balance between the number of visitors and campus operations.
The official website of Xiamen University does not give any information on how many visitors a day are allowed to take a tour of the campus or at what times the campus is open to the public. In other words, the officials of Xiamen University have never considered the needs of tourists.
Therefore, the university should also post this information on its website, so that visitors don't travel from far away only to find the university gates closed to them.
Tang Yinghong, writer and college faculty, Nov 10