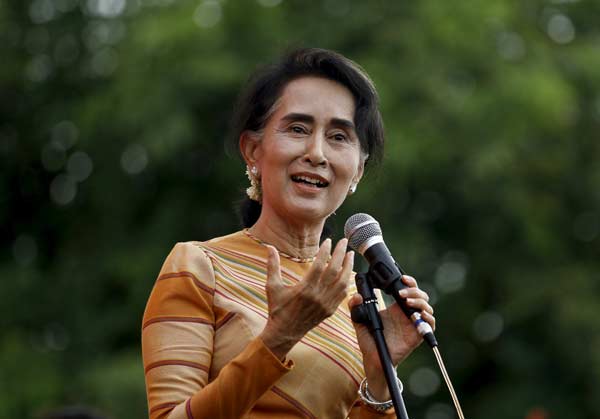 Myanmar opposition leader Aung San Suu Kyi gives a speech on voter education at the Hsiseng township in Shan state, Myanmar September 5, 2015. [Photo/Agencies]
During the past four years, Myanmar has opened up, revealing the country's mammoth problems and challenges, especially those related to race and religion.
"It is time for change, vote National League for Democracy for genuine change," has been the opposition's key message. Repeated calls for more political reforms - along with Aung San Suu Kyi's international stature as a Nobel laureate - have miraculously connected her to the voters, especially the young voters, who have been mesmerized by her political brinkmanship.
The ruling Union Solidarity Development Party has been in power for five years and now asks for a new mandate. In his official speech on the election widely publicized in the government-run newspapers, President Thein Sein said the country needed him to continue the ongoing reforms, including building up "a new political system and new political culture". He admitted the government had encountered "many difficulties", and that it had to find answers to these challenges; he even evoked the importance of people-centered policies and approaches in service and other areas as new challenges.
The official results will come in two weeks. There are at least three possibilities for the post-election political architecture. The first possibility would be a decisive victory for the NLD with a majority, minus the 25 percent quota held by the Tatmadaw (Myanmar military). This would put Suu Kyi in the supreme position to decide the body politic in Myanmar for years to come - something to which she aspires. But to ensure a smooth transition from the Thein Sein government to one belonging to the opposition, the overall security interests of Myanmar's military both individually and institutionally will have be taken into consideration.
Throughout the political campaign, Suu Kyi has maintained neutral voices and tones about the role of the military in the country, knowing full well the importance of its role in society and eventual engagement.