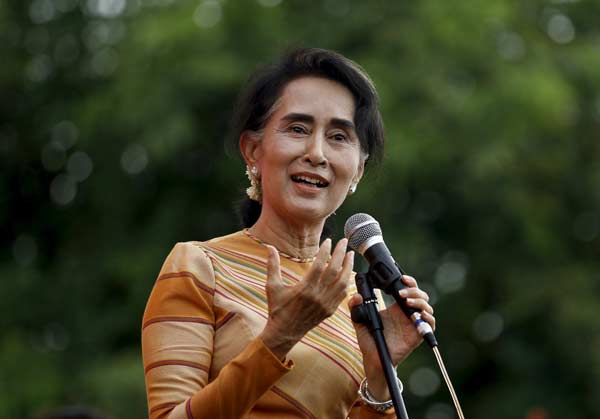 Myanmar opposition leader Aung San Suu Kyi gives a speech on voter education at the Hsiseng township in Shan state, Myanmar September 5, 2015. [Photo/Agencies]
YANGON -- Myanmar opposition leader Aung San Suu Kyi described on Tuesday the upcoming general election as a crucial turning point of the country.
In her message for the launch of election campaign uploaded from her head office, Suu Kyi, who is chairperson of the National League for Democracy (NLD), said the people of Myanmar will have a real chance of bringing about a real change, adding that people can not afford to let it slip.
She hopes that the election be free and fair and the result of the election be respected by all parties concerned.
She stressed the importance of a smooth and tranquil transition through the election.
She also hopes for ensuring a genuine political change.
Political parties in Myanmar started election campaigning on Tuesday by using the state-run Myanmar Radio and Television (MRTV).
The 15-minute radio and TV campaigning is to be allowed for two times for each political party on rotary basis until Nov. 6.
According to unconfirmed figures of the Union Election Commission, a total of 6,189 qualified candidates will run the upcoming Nov. 8 general election nationwide in Myanmar.
The candidates include over 5,866 nominated from 92 political parties and 323 independents.
Of the political party candidates, the ruling Union Solidarity and Development Party (USDP), led by U Htay Oo, accounted for 1, 134, while the opposition NLD, led by Aung San Suu Kyi, took up with 1,151 as preliminarily disclosed.
The commission designated Nov. 8 as the date for holding the 2015 general election nationwide which is to produce representatives to the next parliament which will take effect from the end of January next year.
The presidential run will be on the heels of the parliamentary election by next February, while the present term of the government will end next March.