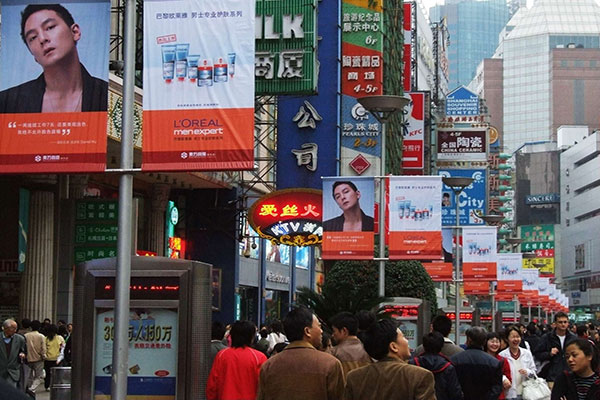 An advertisement for men's skin care products along Nanjing Road in Shanghai. [Photo/China Daily]
The flood of advertisements on men's cosmetics have gradually become a force propelling the spending spree on Singles' Day, which falls on Nov 11, and indicating a silent change in Chinese men's perception about looks.
According to Gome Holdings, one of China's leading online shopping center, clothing was a top consumer product for Chinese men in the first half of this year, comparable to electronics products, which traditionally make up the lion's share of their consumption. A Kantar World panel report says the sales of facial cleansing milk for men was more than 1.5 billion yuan ($234.2 million) in the first quarter of 2015, a year-on-year growth of 17 percent. It seems Chinese men are becoming increasingly interested in looking better.
What prompted this change? The once rampant claim that Chinese men are developing feminine traits is, of course, misleading. Beauty is not a word invented exclusively for women. Chinese history has many stories woven around handsome men. In fact, the four ancient handsome men are as famous as the four ancient beautiful women. Hence, the trend of the past several decades of Chinese men not attaching much importance to their appearances was abnormal compared with the long history of men conscious about their looks.
With Chinese women's rising social and economic status making them financially less dependent on men, looks have become an increasingly important factor for men in the marriage market. A 2014 survey by Bain Capital showed the employment rate of women in China was 73 percent, much higher than that in the United States or Europe. And despite their wages being lower-a 2012 World Economic Forum report said it was as low as 65 percent of men's-they have ensured women's economic independence.
When women have jobs, they can afford to pay less attention to men's incomes and attach more importance to their appearance and behavior when choosing a life partner. And this increases the pressure on men to look better.
Other factors suggest more Chinese men are focusing on looks because they are pursuing a healthier lifestyle. A study by IBIS World, an Australian commercial information company, found that the business revenues of fitness centers in China increased from $582 million in 2004 to $3.69 billion in 2012, and said that it could rise to $6.83 billion in 2018. This is partly because Chinese men want to look better.
Of course, there are other reasons why Chinese men are focusing on their appearance, but increasing economic independence of women and pursuit of a healthier lifestyle by many men remain the main ones. In other words, better looking and smarter Chinese men have much to do with social progress that promotes equality in society and between genders.
The author is a writer with China Daily. zhangzhouxiang@chinadaily.com.cn