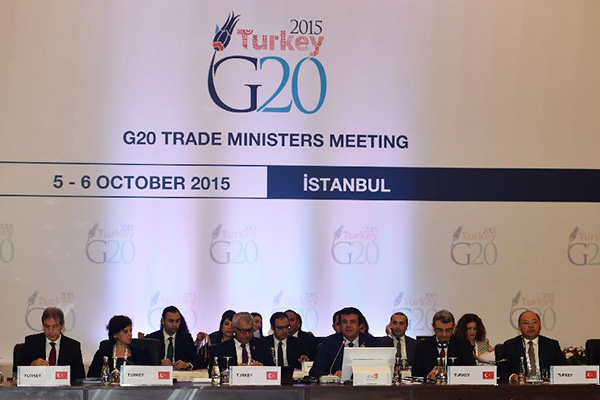 G20 Trade Ministers Meeting is held in Istanbul, Turkey, Oct 6, 2015. G20 trade ministers agreed to pursue deeper and wider trade reforms to ensure trade growth as it grew less than the global economy for the first time in the last four decades. [Photo/Xinhua]
Reforms to better prepare the world's 30 biggest banks for times of crisis should certainly be high on the agenda of G20 leaders who will meet next week in Turkey. But the continuing flood of cheap money poses an even greater threat to global financial stability and economic growth that the G20 leaders must work together to fix.
As the global economy is bracing for the weakest annual growth since 2009, it is surely urgent for the international community to take preemptive measures that will allow a global systemically important bank to fail without creating the kind of market mayhem as the bankruptcy of Lehman Brothers did in 2008.
The recommendation by the Financial Stability Board, which advises G20 countries on banking reform, that big banks should raise up to 1.1 trillion euros (about $1 trillion) of additional cash to ensure their own survival should disaster strike again therefore deserves serious consideration.
But the need to end "too big to fail" so as to protect taxpayers from having to foot the bill of banking bailouts again does not necessarily make these banks the sole or the ultimate cause of a global financial tsunami or economic recession.
Instead, when such banks begin to accumulate too many assets which may prove risky for them later, it is not only bankers but also the banking regulators and monetary policymakers that should consider the risks.
Unfortunately, widespread super loose monetary policies, especially in major developed economies, clearly indicate a lack of consensus among global policymakers.
Worse, increasingly loud criticism singling out the slowdown in China as the main culprit behind slower global growth is blinding the international community to the looming uncertainties that the repeatedly delayed but eventual hike in US interest rates will cause around the globe.