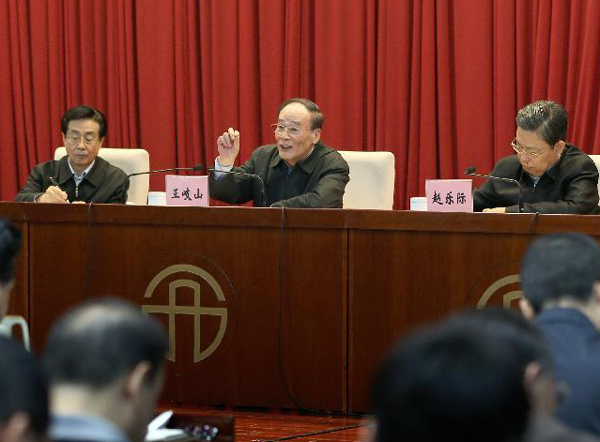 Wang Qishan (center), a member of the Standing Committee of the Political Bureau of the Communist Party of China (CPC) Central Committee and secretary of the CPC Central Commission for Discipline Inspection, addresses a conference on the work of central-level Party inspection in Beijing, China, Feb 11, 2015. [Photo/Xinhua] 
The status quo of poverty alleviation in China remains critical. So far, nearly 600 million people have been lifted out of poverty.  
At a news briefing on Oct 12, Hong Tianyun, deputy director of the State Council Leading Group Office of Poverty Alleviation and Development, said that China still has a poor population of over 70 million, albeit has only six years left before removing all poor population. 
In the past three decades, the Chinese central government spent billions of RMBs and structured many favorable policies to fight poverty. But in some areas the anti-poverty initiative either keeps stagnant or backpedals.
One important reason leading to the gap between the central government's good-will anti-poverty endeavors and actual results is the problems of corruption and dereliction of duty at the grassroots level.
According to Xinhua News Agency's latest report, the National Audit Office disclosed an inspection notice regarding violations of fiscal discipline, saying that 3119 people from Mashan County of Guangxi Zhuang Autonomous Region, categorized by local authority as a 'poor population', actually live high above the poverty line. 
Among them, 343 people are public servants, 2454 people possess 2645 private automobiles, 43 people have their own commercial housing properties, and 439 people have their own private small businesses. It's really shocking to see national poverty reduction resources established by the central and provincial government to improve poor people's life being misallocated. 
In Mashan, a poor mountainous region, urban people and rural people possessed a yearly disposable income of 17683 RMB and 4865 RMB in 2012, but what really makes us disappointed is that a real poor population can't access the poverty reduction resources due to rich people, who pretend to be poor, receive unneeded benefits. Mathew Effect, describes this as, "whoever has will be given more, so he will have abundance."