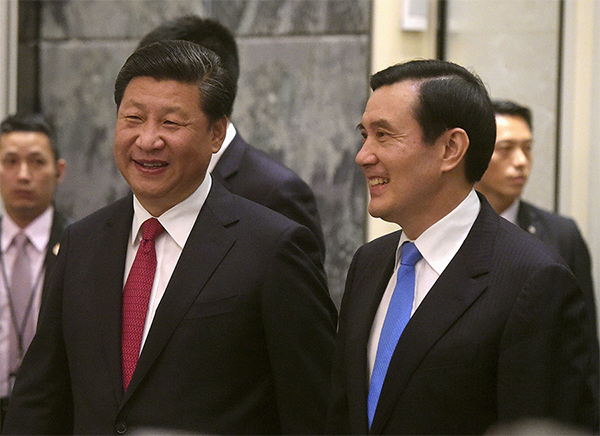 Xi Jinping and Ma Ying-jeou smile as they enter the room at the Shangri-la Hotel where they are to meet, in Singapore, Nov 7, 2015. [Photo/Agencies]
"Today will be remembered in history," Xi Jinping said in a meeting between leaders of the two sides of the Taiwan Straits, adding that the meeting has opened up "a historic page" in cross-Straits relations.
No force can pull apart the two sides across the Straits which are "one family," said Xi in opening remarks before a closed-door meeting with Ma Ying-jeou in Singapore.
The 66-year history of the development of cross-Straits relations shows that no matter how much ordeal the two sides have undergone and how long the two sides have been isolated from each other, they cannot be pulled apart, Xi said.
Calling both sides "brothers who are still connected by our flesh even if our bones are broken," Xi told Ma that "at present, we are at the crossroads for choosing the direction and path for future development in cross-Straits relations."
"We are sitting together today to prevent the historical tragedy from repeating itself, prevent the fruits from peaceful development of cross-Straits ties from being lost again, enable compatriots across the Straits to continue to create a peaceful life, and enable our next generations to share a bright future," Xi said.
Xi said the two sides across the Straits should prove with concrete moves to the world that the Chinese from both sides have the capabilities and wisdom to solve their own problems.
Xi called on the two sides to jointly make greater contribution to world and regional peace, stability, development and prosperity.
Xi expressed his hope that the two sides could adhere to the 1992 Consensus, consolidate common political foundations, stick to the path of peaceful development, and maintain the right direction for development of cross-Straits ties.
Both sides should also deepen cross-Straits exchanges and cooperation, boost well-being of people on the two sides, make joint efforts for the great rejuvenation of the Chinese nation, and enable people on both sides to share the glory of national rejuvenation.