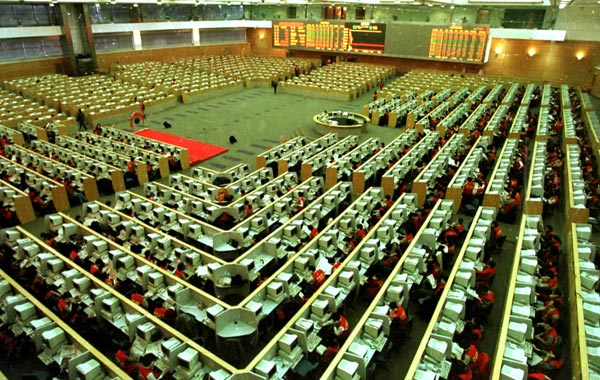 The trading center of the Shanghai Stock Exchange. The benchmark Shanghai Composite Index had a tough year in 2013, declining by about 7 percent. Zhang Ming / Xinhua
China's securities regulator said on Friday that it will resume initial public offerings by companies after halting the fundraising mechanism since July to stem the dramatic market slide during the summer.
The China Securities Regulatory Commission's move came as the benchmark Shanghai Composite Index had rebounded by 20 percent from the low in August following a rout that wiped out $5 trillion in market value.
The decision was widely regarded by analysts as a timely and positive move to restore the financing function of the stock market, which will benefit the country's economy overall.
"The IPO resumption was a bit surprising, as it took place earlier than the market's expectation. It is a positive step, and we don't think the new share supply will heavily burden the market, since liquidity is very abundant," said Hong Hao, chief strategist at investment bank BOCOM International Holdings Co in Hong Kong.
Ten of the 28 companies that had already gained regulatory approval for new share sales before the market rout will be among the first to launch their IPOs after Nov 20, the CSRC said.
"The market has been gradually stabilized, and the IPO resumption will offer a reasonable supply that will help improve market vitality and benefit its long-term development," Deng Ge, the CSRC spokesman, told a news conference.
On Friday, the regulator also announced a set of new measures to reform the current IPO mechanism, which marked a further step toward a market-oriented listing system.
The measures include scrapping the requirement for full payment of shares in advance when an investor bids to subscribe new shares. This will prevent the IPOs from locking up too much capital, the CSRC said.
In addition, the regulator further simplified the pricing procedure for small-cap IPOs under 20 million shares, which will help reduce the financing costs of smaller companies.
The current system is an approval-based system under which the regulator controls the timing and price of IPOs, which could result in a government endorsement of companies' profitability that distort share prices.
The IPO reform by the CSRC came as the country's top legislature is reviewing the amendment of the country's Securities Law, which is expected to introduce a much-anticipated registration-based IPO mechanism.