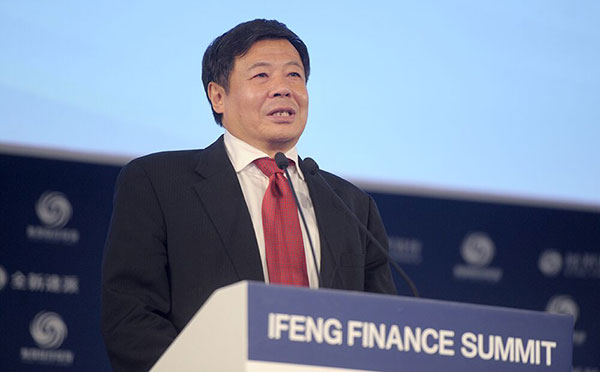 Vice-Finance Minister Zhu Guangyao is seen during an economic forum in Beijing in early Nov. [Photo/ifeng.com]
China's Vice-Finance Minister Zhu Guangyao said on Friday that it is worth discussing whether the fiscal deficit ratio should be fixed below the ceiling of 3 percent, indicating the possibility of a more proactive fiscal policy in 2016.
Zhu made the remarks on the same day that Premier Li Keqiang, while briefing about 250 political advisers on the draft 13th Five-Year Plan (2016-20), called for bigger efforts in achieving the annual growth target over the next five years. Li said the government is considering more counter-cyclical adjustment policies to help businesses overcome economic difficulties.
"We didn't relax the fiscal policy this year ... the deficit ratio is not at a high level at the moment," Li said at the meeting.
While conceding that in the next two years it will be more difficult to achieve the annual growth target, Li said that once the economic difficulties are overcome, a smooth path will lie ahead.
Zhu, the vice-finance minister, said at an economic forum on Friday that it is worthy of discussion whether the traditional economics concept - a deficit ratio of 3 percent and a debt ratio of 60 percent - ought to be adjusted amid the current economic complications.
"This year is the most difficult for the global economy since 2009. The International Monetary Fund has lowered the economic forecast to 3.1 percent, the slowest growth since the financial crisis.
"Except for policies to balance reforms and growth, it is time to look into some of the traditional economic concepts. ... A rigid ratio requirement will not benefit reforms or growth," Zhu said.
China raised its deficit target from 2.1 percent of GDP last year to 2.3 percent, or 1.62 trillion yuan ($255 billion), this year.
Wang Tao, chief economist in China at UBS AG, said the average 6.5 percent growth target in the next five years might be a little high, as a slower rate than that can still ensure a stable labor market.
"Economic slowdown pressure will remain in China in the next two years, and we forecast the country's real GDP growth slowing from 6.9 percent in 2015 to 6.2 percent in 2016 and 5.8 percent in 2017," said Wang. She said that sluggish construction an overhang of excess manufacturing capacity will likely lead to further weakening of industrial demand and fixed-asset investment.
"Moderate growth will be more suitable for restructuring reform, but continued policy support will mitigate the slowdown."
It is possible to achieve the five-year target if the ongoing growth pattern transformation goes smoothly, she added.