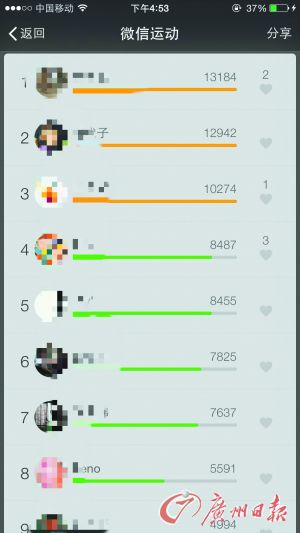 A screenshot of WeChat shows the ranking of competitive walking. [Photo/Guangzhou Daily] 
If you hear your neighbor's door slamming late in the night, don't be alarmed. He might be rushing out the door because he's just noticed his main competitor in the daily walking stakes is 2,000 steps ahead of him and midnight in looming.
Aided by the growth of mobile Internet and the boom in social media, competitive walking is the new cult of the fitness-conscious urbanite in China.
Tracking devices not only allow devotees to record their steps, they make it easy to share the data on social media sites, such as the messaging app WeChat, and create real-time lists of rankings among friends, colleagues and acquaintances.
Comparing and contrasting each others' daily performances can be addicting, these fervent walkers say, and the ranking starts anew each night at midnight.
Shi Feng, who cheerfully admits to being obsessed with his fitness application, checks it every day to review his latest ranking.
"It's interesting and makes walking more competitive," Shi said.
To avoid dropping out of the top three, Shi takes an average of 50,000 steps per day, a mammoth jump from the 4,000 steps that most people accrue in a typical day.
Shi walks for about two hours after supper, and sometimes gets off the subway a few stops before his home station to add a few extra kilometers to his daily regimen. Still, there is possibility of other walkers in his group overtaking him if they rush out late in the night to burn a few more calories and clock a few more steps to before the deadline, he said.