In today's trending, aerial photos show that landscaping around the former home of Chiang Kai-shek makes the estate look like an emerald necklace, a brave truck driver drives a burning tractor-trailer out of the tunnel where it caught fire and a romantic marriage proposal involves 99,999 chilis spread into a red "carpet".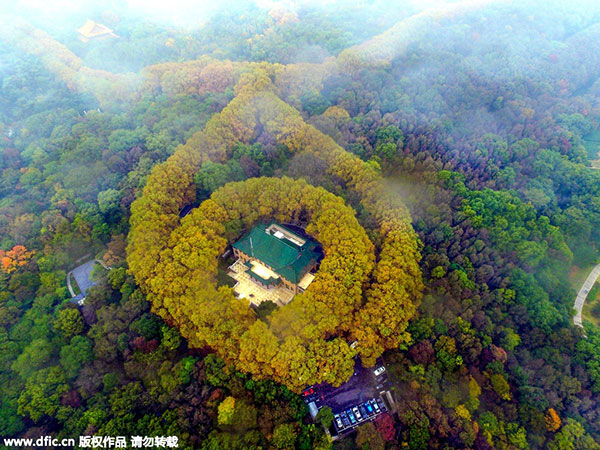 An aerial photo shows that landscaping around the May-ling Palace, former home of Chiang Kai-shek, makes the building look like an emerald on a green necklace, in Nanjing city, East China's Jiangsu province. [Photo/IC] 
'May-ling Palace' lauded as 'most beautiful necklace'
Aerial photos of a residence that was once the home of Chiang Kai-shek, leader of the Kuomintang, and his wife, Soong May-ling, recently cheered the friends circle on WeChat, a popular social networking platform in China. From the air, the house resembles a giant emerald and the landscaping around it looks like a pendant and necklace. It's rumored the site was built that way as a symbol of love for the couple.
The "May-ling Palace", as the locals call it, is located on the top of Xiaohong Hill in eastern Nanjing city, East China's Jiangsu province and is now a scenic spot. The aerial photos show that a road with yellow-colored plane trees on the wayside leading to the residence looks like a necklace while the palace's roof looks just like a cut emerald.
Chiang Kai-shek did not intend to design the residence or the grounds in the shape of a necklace, said Wen Huibin, director of the cultural relics office of the management bureau of the Dr. Sun Yat-sen's Mausoleum Scenic Area, adding that it is not associated with the couple's love affair.
The May-ling Palace was built in 1931 and served Chiang Kai-shek and his wife until 1949.
In our next story, like a scene out of an action movie, a truck driver steers his burning rig out of a tunnel where it caught fire.