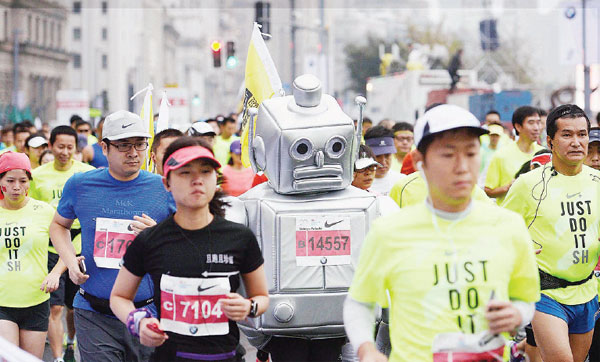 Participants from 85 countries and regions compete on Sunday during the Shanghai International Marathon. The number of marathons in China has been rising rapidly. Last year, 56 were held nationwide, while so far this year there have been more than 100 races. Lai Xinlin / For China Daily
Increased participation in premier running events across the world reflects the sport's growing appeal in China, as Hezi Jiang reports from New York.
The 224 Chinese runners who flew across the Pacific to leave their footprints on the five boroughs of New York City represented a booming interest in marathon running in their home country.
For Tian Tongsheng, it was his third trip to New York for the marathon, which unfurled across the city on Nov 1.
"The first time, I didn't even see the starting line," Tian said. That was in 2012, when the race was canceled after the city was battered by Tropical Storm Sandy.
"In 2013, I came again, after experiencing the Boston Marathon bombing at 700 meters from the finish line," he said. "I finished it alone. This time, I brought a group."
At 63, Tian looked trim in a fitted running shirt as he offered his observations from the lounge of the Grand Hyatt hotel in midtown Manhattan on Oct 29.
Tian is the co-founder of Runnar, an international travel partner of the TCS New York City Marathon. He took about 100 Chinese competitors and their relatives with him for the 42-km course.
Palace Travel, another travel agency, brought another 100 runners. Palace offers a $2,000 New York Marathon package on its website, which includes registration for the race and three nights at the Excelsior Hotel.
People can also choose to participate in a seven-day East Coast tour after the race.
Wang Qi, CEO of Palace Travel US Inc, said that as the marathon becomes more popular in China, marathon travel becomes a hip thing to do.
Marathon-running took off in China in 2013, after years of a rapidly growing economy.
"Many people had worked very hard for a decade, and they realized that their health was deteriorating," Tian said. The prosperous economy allowed people to rethink their lifestyles.
"The immigration officers used to ask many questions, but this time - so fast," said Li Xiaobai, 58, chairman of the New Silk Road Fashion Group, who also participated in the marathon. When Li told the officer at John F. Kennedy International Airport that he was in town for the race, he got a thumbs-up.