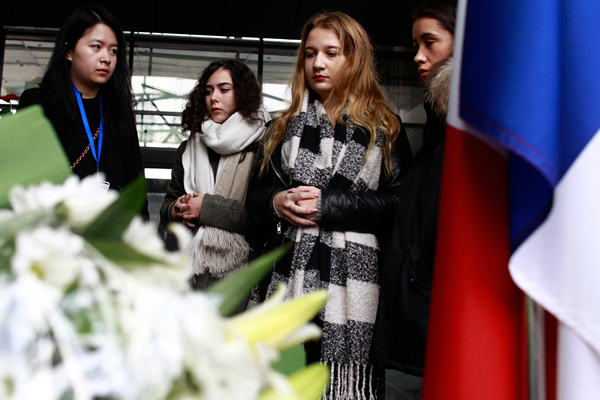 People in Beijing gathered at the French embassy in China on Sunday to mourn the victims of the Paris attack. The embassy lowered the tricolor flag to half-staff. [Photo by Zhu Xingxin/China Daily]
China will intensify counter terrorism security measures following the Paris attacks that so far claimed 132 innocent lives and injured hundreds of people on Friday, public security authorities said on Sunday.
"Police officers should assume their responsibilities to fight terrorism," said Guo Shengkun, China's minister of public security, during a video conference with security and counterterrorism officials on Sunday.
He said Chinese police will strengthen patrols and preventive measures in areas such as airports, railway stations, shopping malls, schools and entertainment venues.
Police will be especially vigilant in watching for guns and dangerous articles and substances, while keeping a close eye on express delivery services, he said. They also will work to resolve disputes to keep them from developing into bigger issues that can result in extreme and violent incidents, he said.
In addition, they will focus on collecting and analyzing intelligence and take effective measures in a timely manner to foil any possible terror attacks, he added.
The Islamic State group, which says it has established a caliphate in parts of Syria and Iraq, claimed responsibility on Saturday for Friday's attacks at a music hall, restaurants and a soccer stadium. Attackers used guns and suicide vests to sow carnage in the heart of Paris.
China on high alert
The high-profile attack in Paris could be a pattern that may be repeated elsewhere, "so China must be on high alert to combat terrorism", according to a ministry statement.
In recent years, a number of terror suspects from Xinjiang Uygur autonomous region have illegally crossed from China's border areas into other near by Asian countries such as Thailand and Malaysia, ministry officials said.
In these countries, the suspects usually purchase fake passports to travel to Turkey, then head to Syria and Iraq to join up with the Islamic State and receive military training before returning to China to plan and conduct terrorist attacks, they said.
"China is facing the same threats from IS as France and must prepare for similar terror attacks, which were well-planned and targeted multiple locations at the same time with different firearms and equipment, resulting in devastation in the target city," said Li Wei, anti-terrorism expert at the China Institute of Contemporary International Relations.
It's urgent to strengthen law enforcement cooperation between China and countries such as the United States and European nations in areas such as intelligence sharing, case investigation, border management, creation of contingency plans and carrying out mutual drills so that the threat of attacks can be handled more effectively, Li said.
Mei Jianming, director of the Counterterrorism Research Center at People's Public Security University of China, said: "China should draw lessons from the Paris incidents and then improve emergency mechanisms to prevent similar fatal attacks."
Mei said it is urgent that a national intelligence-sharing platform be established to help China's security authorities "grasp and analyze various terrorist-related intelligence, then effectively direct different forces, including police, armed police and soldiers, to destroy terrorists' attack plans and smash criminal groups."
Aside from tightening counterterrorism efforts in such big cities as Beijing, Shanghai and Guangzhou, it is also important that services in other cities and regions such as public security, special weapons and tactics forces, traffic management and healthcare strengthen their coordination and improve their rapid response capabilities in case of terror attacks, he added.