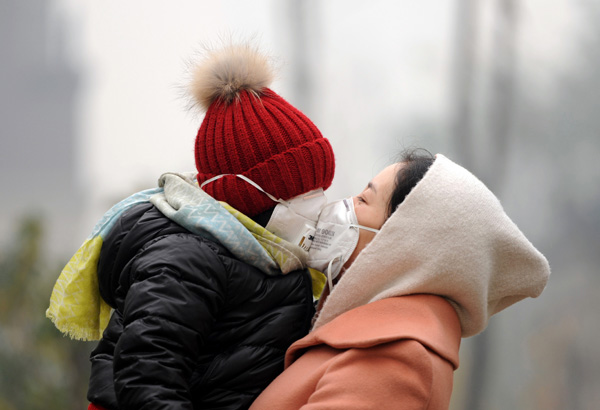 A mother and her daughter protect themselves from the heavy smog in Shenyang, Liaoning province, on Sunday. [Photo/China Daily]
China's major cities should reach their targets in reducing major air pollutants by 2017 as planned, experts said, though ozone poses a more stubborn problem.
Among the six major air pollutants listed in the Action Plan on Air Pollution Control and Prevention, the concentrations of five saw significant decreases in 2014 in 74 major cities, according to the Ministry of Environmental Protection.
For example, PM2.5, a fine particle that poses health hazards, saw a reduction of 11.1 percent per cubic meter in 2014, while the concentration of sulfur dioxide was reduced by 20 percent year-on-year.
Levels of nitrogen dioxide, carbon monoxide and PM10 also decreased.
However, a rising level of ozone may require the country to take more comprehensive measures, experts warned.
"It has become harder for governments to cut the emissions of airborne pollutants as more complicated problems pop up," He Kebin, head of School of Environment at Tsinghua University, said on Monday.
Excessive ozone concentrations at ground level are generated mainly through complicated photochemical reactions. They have a close relationship with many other air pollutants, such as volatile organic compounds and nitrogen oxides, said He.
Average ground-level ozone levels-which can be harmful to health, unlike the protective layer of ozone in the upper atmosphere-increased by 4.3 percent in 2014, reaching 145 micrograms per cubic meter, Fu Lu, the China office director of Clean Air Asia, an international nongovernmental organization, said on Monday.
China plans to reduce the concentration of PM2.5 in Beijing to 60 micrograms per cubic meter by 2017, according to the municipal environmental watchdog, down from 89 micrograms per cubic meter in 2014.
The country has seen a great improvement in major air pollutant levels since the release of the action plan in June 2013, which marked the start of the national campaign against smog.
Governments will face tougher challenges in improving air quality, like the thorny problem of curbing ozone, and some cities will not see a large reduction in pollutants in 2015, He said.