Rising living standards and greater appreciation of healthy lifestyles have resulted in soaring demand for Maca, the latest 'miracle' plant, as Yang Wanli and Li Yingqing report from Lijiang, Yunnan province.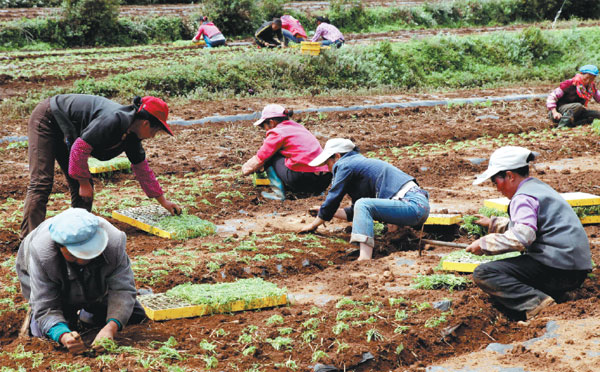 Villagers transplant maca seedlings in Laoqing village, Qiaojia county, Yunnan province, in August last year. The plant, nicknamed "herbal Viagra", was introduced to China from Peru 15 years ago. Yan Keren / For China Daily
The human desire for longer life is insatiable, it seems. In the 1950s, life expectancy in China was about 40. In 2010, 60 years later, medical advances and higher standards of living meant Chinese people were expected to live to an age of 74.5 years, and by 2020, average life expectancy will be extended by a further two and a half years, according to official projections.
But that's still not enough for some people, who continue to look for ways of improving their physical condition and maintain as much health and vigor as possible. That passion has become a powerful driver behind the growing popularity of Maca, a plant native to Peru that's being touted as the latest "miracle" in China's booming health food market.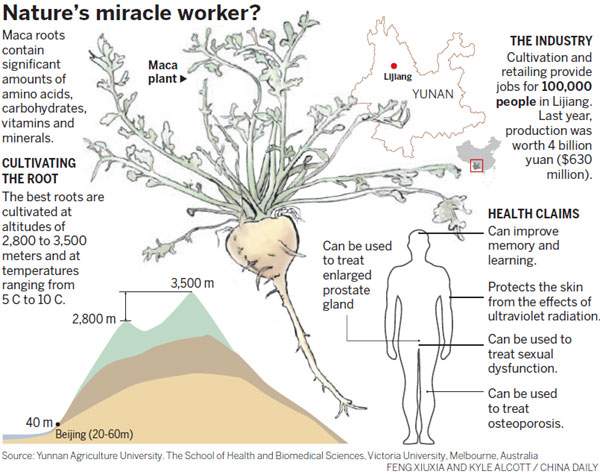 Lijiang, in the southwestern province of Yunnan, is China's biggest Maca cultivation area. Back in 2002, the city produced just 200 kilograms of the radish-like root, but since 2010, when the plant's nutritional benefits and perceived boosts to energy and sexual performance started being advertised nationwide, farmers have produced bumper harvests.
Last year, 21,000 metric tons of fresh Maca root worth 4 billion yuan ($626 million) were harvested in Lijiang, according to official statistics. In 2013, fresh roots sold over the counter for between 100,000 and 200,000 yuan per ton. Last year, the price peaked at 600,000 to 800,000 yuan, when the industry attracted 800 million yuan in private investment, and contributed tax revenue of 900 million yuan to the local government.
Experts predict that the market for Maca will expand further, and that could be bad news for the environment because the soaring price has prompted unregulated expansion.
The ever-rising price has overexcited the industry and resulted in irrational planting and excessive use of pesticides and chemicals, directly affecting the quality of the root, according to Yang Honggang, founder and manager of Yancheng Baisuifang, one Lijiang's largest Maca retailers.
"Farmers are obsessed with the soaring price, but the nutrients in the root will be destroyed because of unseasonal sowing," Yang said, adding that some farmers started planting early in the year, rather than waiting for the more-traditional late-May sowing season.
The resultant oversupply saw the price plummet during the summer, and poor quality roots harvested in May are now entering the market, mixed with fresh roots. The situation is getting out of hand, he said. "The Maca market has always been unregulated. Unlike other products whose quality is easily determined via authorized certificates, there are no official quality standards for Maca," he said. "Even with the high price, customers still run the risk of being cheated with low-quality roots, and you only know if the quality is good or bad by eating them."